Zebronics ZEB-Juke Bar 1000: Upgrade Your Sound Experience
Introducing the Zebronics ZEB-Juke Bar 1000, a cutting-edge soundbar that will revolutionize your audio experience. With its superior features and affordable price, this soundbar is set to outperform its competitors and redefine home entertainment. In this article, we will explore the impressive specs and features of the ZEB-Juke Bar 1000 and why it is a must-have for any audio enthusiast.
ZEB-Juke Bar 1000: Specs and Features
The Zebronics ZEB-Juke Bar 1000 is a 2.1-channel soundbar that comes with a dedicated 5-inch subwoofer, delivering a powerful sound output with 90W RMS. The 60W RMS dual-driver soundbar ensures crystal clear sound quality, perfect for an immersive audio experience. Combined, they offer a remarkable total sound output of 150W, ensuring every beat and note is delivered with precision.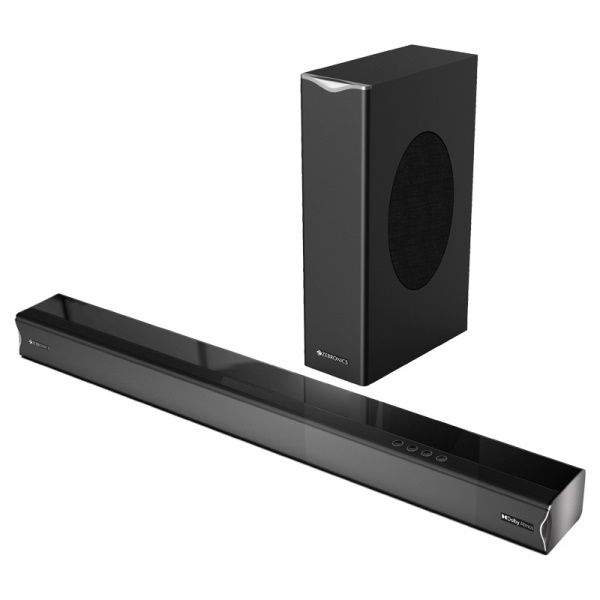 What sets the ZEB-Juke Bar 1000 apart is its support for Dolby Atmos, guaranteeing an exceptional surround sound experience. Whether you're watching a movie, binge-watching your favorite TV show, or simply enjoying your favorite songs, Dolby Atmos provides unparalleled clarity and detail.
Designed with both style and functionality in mind, the ZEB-Juke Bar 1000 boasts a sleek design and a premium glossy finish. Its compact size allows for easy placement anywhere in your home, and it can also be effortlessly wall-mounted. With multiple connectivity options such as HDMI (eARC), Optical-in, AUX, USB modes, and Bluetooth 5.3, you can effortlessly connect your devices and enjoy your audio content without any hassle.
Controlling the soundbar is a breeze, thanks to the LED display and remote control support. Adjusting the volume, switching between modes, and accessing various functions has never been easier.
Price and Availability
The Zebronics ZEB-Juke Bar 1000 is available at an introductory price of Rs 9,999. It is now accessible through leading online platforms Amazon and Flipkart, opening up a world of superior audio quality for everyone. The ZEB-Juke Bar 1000 comes in a sleek black color option, adding a touch of elegance to your home entertainment setup.
Upgrade your sound experience and bring the cinematic luxury into the comfort of your own home with Zebronics ZEB-Juke Bar 1000.
Buy Zebronics ZEB-Juke Bar 1000 via Flipkart