Google Play Store Integrates YouTube Shorts for Improved App Discovery
The Google Play Store is a treasure trove of apps and games for Android users. With thousands of options available, finding new and exciting apps can be overwhelming. To make the process easier, the Play Store is now incorporating YouTube Shorts, a popular short video format, to provide app recommendations and streamline the app discovery experience.
Get App Recommendations via Shorts in the Play Store
According to an official blog post, Google is introducing "The Play Report" – a series of short app-centric videos that showcase expert recommendations, creator picks, and underrated choices. These videos will cover a wide range of trending apps and games, making it easier for users to discover new and exciting content.
These short videos will be prominently displayed on the Play Store's homepage, replacing the usual card-like editorial picks. This strategic placement ensures that users are immediately exposed to visually engaging and informative content that can help them make better app choices.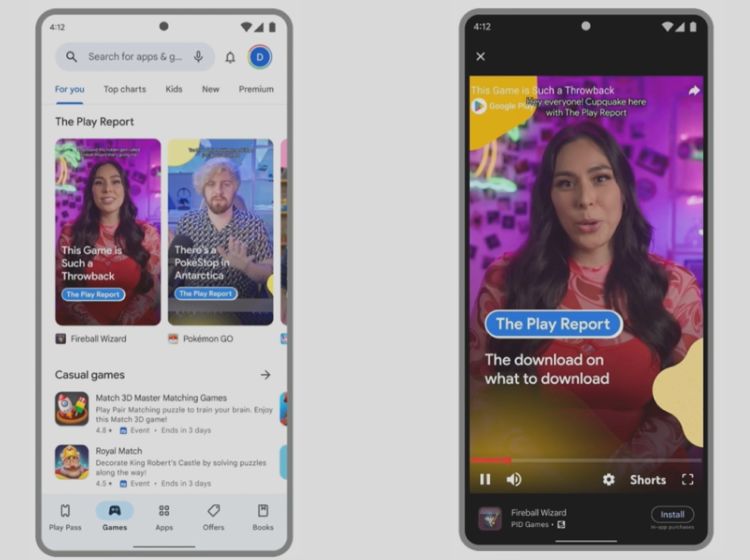 Source: Google
Clicking on a video will allow users to hear from Google-certified creators and experts, who will provide brief insights into the featured app or game. The integration of the "Install" button within the video player enables users to download the recommended app effortlessly, making the entire process seamless and user-friendly.
It's worth noting that the term "Shorts" is mentioned in the video player, indicating that this feature is an extension of YouTube Shorts rather than a standalone functionality. Currently, this visual overhaul is available exclusively through a pilot program in the U.S. If you are not part of this program, you can still access the Play Report series by visiting Google Play's official Instagram, Facebook, and YouTube accounts.
The Google Play Store's integration of YouTube Shorts is a game-changer for app discovery, providing users with dynamic and engaging content that helps them make informed decisions. With the convenient "Install" button and expert insights, finding the perfect apps has never been easier.
Stay tuned for more updates and recommendations from The Play Report series as Google continues to enhance the app discovery experience on the Play Store.