WhatsApp for Android Introduces New Features in Latest Beta Versions
WhatsApp, the popular messaging platform owned by Meta, is constantly looking to enhance the user experience for Android users. In the recent beta versions, three new features have been tested to improve messaging and safety on the platform. Let's take a closer look at these exciting updates.
Enhanced Safety Tools for New Users
According to a report by WABetaInfo, the latest WhatsApp beta version 2.23.16.6 introduces a new Safety Tools feature. This feature aims to educate new users about the safety features of WhatsApp and provide them with guidance on maintaining their privacy. The feature includes options to block or report messages from unknown numbers and also explains how to disable read receipts to ensure message privacy. Additionally, there is a link to access more information about staying safe on the platform.
Redesigned Search Bar
In the 2.23.16.5 update, WhatsApp is testing a redesigned search bar that aligns with the Material You 3 design. This new search bar showcases options such as Unread, Photos, Videos, GIFs, and more in bubbles, creating a cleaner and more streamlined appearance. Although currently available to select beta testers, there is no official confirmation on when it will be rolled out to all users.
Create New Groups with Ease
Another exciting feature being tested is the ability to create a new group while forwarding a message. With the new "Forward to New Group" option, users can easily form groups based on specific topics without wasting time. Currently, this feature is only available to a limited number of beta users.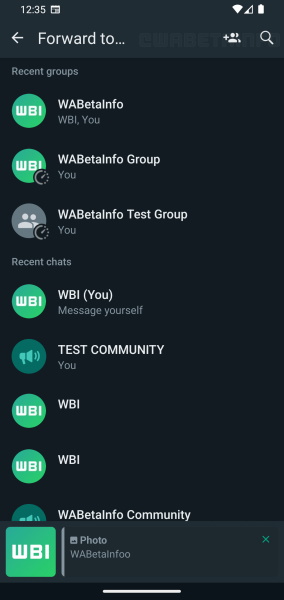 While the exact release date for these features remains unknown, WhatsApp has a reputation for regularly introducing new functionalities. Users can expect these updates to arrive soon. Stay tuned for further announcements, and feel free to share in the comments which feature you're eagerly anticipating.