WhatsApp Testing Voice Chats Feature for Groups
WhatsApp is constantly exploring new features to enhance user experience. One of its latest developments is the voice chats feature, which is currently being tested for groups. While it may sound similar to the existing voice call and voice note features, there are some notable differences. Let's take a closer look at what WhatsApp's voice chats feature has to offer.
Understanding WhatsApp Voice Chats
According to WhatsApp feature tracker WABetaInfo, the meta-owned messaging platform is testing voice chats (previously known as audio chats) as part of the WhatsApp beta for Android 2.23.16.19 update. This feature was tested in the past, but no substantial information was available at that time.
The recent beta update introduces a new voice waveform icon to WhatsApp groups. Tapping on this icon will open a dedicated voice chat interface, allowing users to engage in audio conversations with others.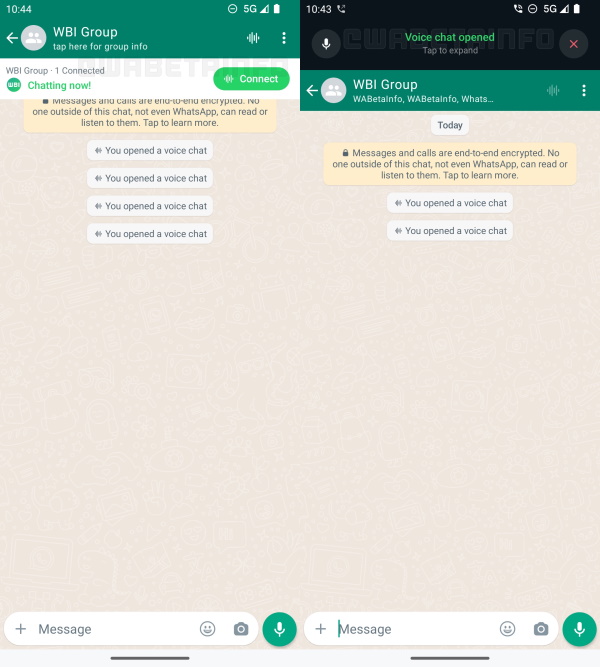 Now, you might be wondering how this feature differs from the ability to make calls in WhatsApp groups. Both features serve the same purpose of verbal communication. However, the new voice chats feature has a distinct advantage – it won't ring others. Instead, it will send a silent notification indicating that a voice chat is in progress. This eliminates the need for immediate participation in the call.
If no one joins the voice chat within 60 minutes, it will automatically end. However, you can always create a new one when all participants are available. Although the feature is currently allowing more than 32 people to join, the exact number may vary when it officially rolls out.
It's still uncertain how this feature will be distinguished from voice calls, but we'll have to wait for its official release to get a better understanding. WhatsApp is known for testing and swiftly implementing new features, so we can expect the same treatment for voice chats as well. We'll keep you updated with the latest developments. In the meantime, feel free to share your thoughts on whether you find this feature more useful than traditional voice calls in the comments below.