WhatsApp Channels Introduced in India: Get the Latest Updates in a Private and Secure Way
Are you tired of scrolling through endless newsfeeds and websites to get the information you need? WhatsApp has got you covered with its latest feature – WhatsApp Channels. This game-changing feature allows organizations and content creators to share updates and information with multiple people in a private and secure way. Let's dive deeper into how WhatsApp Channels work and how they benefit users in India and around the world.
What Are WhatsApp Channels?
WhatsApp Channels are curated spaces where you can stay up-to-date on various topics that are important to you. These channels provide a streamlined way to receive information directly from organizations and content creators. WhatsApp Channels have recently been introduced in 150 countries, including India.
Privacy and Security
When joining a WhatsApp Channel, your privacy is of utmost importance. Unlike regular chats, the profile picture and phone numbers of participants are not shared within the channel. This ensures that your personal information remains protected. Additionally, screenshots of updates within the channel are not allowed, maintaining the privacy and exclusivity of the content.
WhatsApp Channels also allow admins to have control over who can join their channels and whether they want them to be searchable. This gives admins the power to curate their audience and maintain the quality of content within the channel.
Discoverability and Searchability
WhatsApp Channels have a searchable directory, making it easier for users to find channels related to their interests. This directory organizes channels based on topics and countries, allowing you to discover relevant channels effortlessly. Whether you're looking for the latest cricket updates or updates from your favorite celebrities, WhatsApp Channels has you covered.
End-to-End Encryption and Reactions
It's important to note that WhatsApp Channels are not end-to-end encrypted like regular chats. This is because WhatsApp Channels facilitate one-way communication, ensuring that organizations and content creators can share updates efficiently. However, rest assured that WhatsApp maintains high standards of security and data protection.
WhatsApp Channels also have the feature of reactions, allowing you to express your thoughts and emotions on the updates you receive. You can engage with the content by using various reactions, adding an interactive element to your channel experience.
Indian Cricket Team Channel and Celebrity Channels
In India, WhatsApp Channels have already gained popularity with the launch of the Indian Cricket Team Channel by the Board of Control for Cricket in India (BCCI). Many celebrities, including Katrina Kaif, Diljit Dosanjh, Akshay Kumar, Vijay Deverakonda, and Neha Kakkar, have also followed suit by launching channels to connect with their fans directly.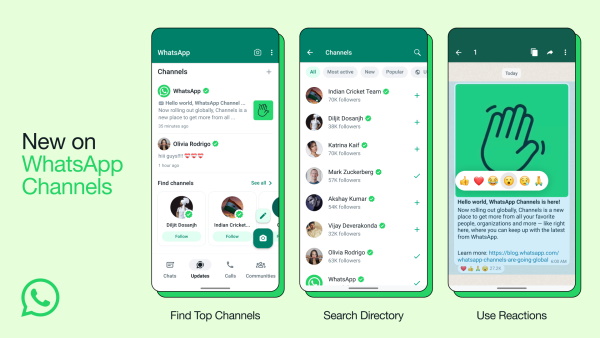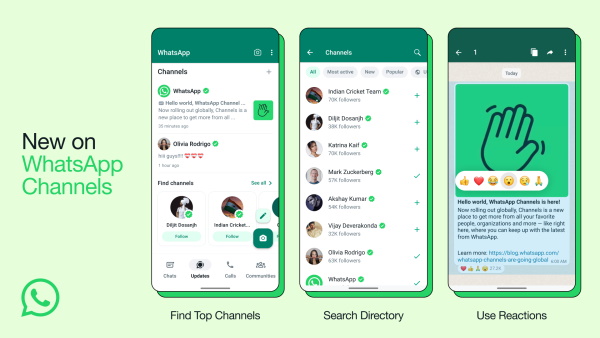 Forwarding and Editing Updates
To spread the word about the updates you receive in a WhatsApp Channel, you can conveniently forward them to other chats and groups. The forwarded updates contain a link to the channel, allowing more people to discover and join the channel. Admins of WhatsApp Channels will soon have the ability to edit the updates they send, providing them with a 30-day window to make necessary updates or corrections.
Be on the lookout for the rollout of WhatsApp Channels in the coming weeks. This exciting new feature will revolutionize the way you stay informed and connected. Share your thoughts and opinions on this game-changing update in the comments below!