WhatsApp Avatars on Video Calls: Adding Fun and Interaction to Your Conversations
Are you tired of the same old video calls? Do you want to add more fun and excitement to your conversations? Well, we have some great news for you! WhatsApp is testing a new feature called Video Avatar Calling, which allows you to use your WhatsApp Avatar during video calls. This feature is expected to bring a whole new level of interaction and entertainment to your video calls.
WhatsApp Avatars on Video Calls Tested
The new beta for Android 2.23.19.14 update includes the exciting Video Avatar Calling feature. With this feature, you can now use your personalized WhatsApp Avatar while making video calls. Imagine the fun and laughter as your Avatar mimics your facial movements and expressions during the call.
This feature has been in the works since last year, and it seems like its official introduction is just around the corner. WhatsApp aims to provide a similar experience to Apple's FaceTime and Zoom, where users can replace their faces with their own Memojis or emojis.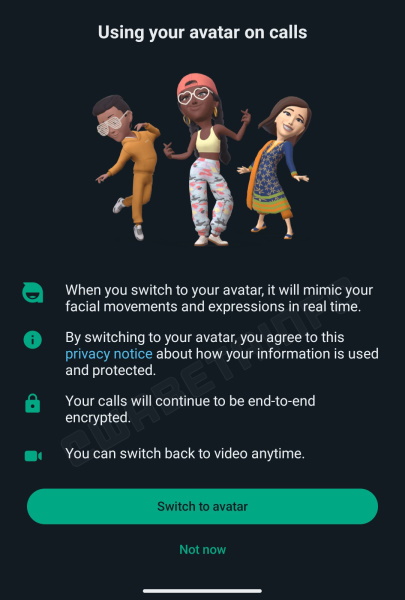 Source: WABetaInfo
When you use Avatars during video calls, the movements and expressions of your Avatar will synchronize with your own, making the calls more interactive and engaging. To access this feature, you will find an Avatar button on the calling screen. Simply tap on it, and your Avatar will be activated. And don't worry, video calls made with Avatars will be end-to-end encrypted, ensuring your privacy and security.
Currently, the Video Avatar Calling feature is being tested by a select group of beta testers. However, we expect it to be available to a wider audience soon. It is also possible that this feature will be introduced on other Meta-owned platforms like Instagram and Messenger, since these platforms often share common features.
Stay tuned for more updates on when WhatsApp will release this exciting feature to the public. In the meantime, if you haven't already done so, check out our article on how to create and send WhatsApp Avatars. We would also love to hear your thoughts and feedback on the idea of adding Avatars during WhatsApp video calls. Leave your comments below!