Maxsun Releases RTX 4090 MGG Mega Gamer Edition GPU
The RTX 4090 by NVIDIA is pretty much the world's fastest graphics card, topping the chart in our best graphics cards to buy for gaming guide. Maxsun is a China-based AIB manufacturer for NVIDIA GPUs, and they have released a new RTX 4090 model boasting a five-fan design. Here's all the details:
Maxsun Releases RTX 4090 MGG Mega Gamer Edition GPU
Maxsun is a hardware manufacturer from China that sells GPUs, along with other PC hardware like motherboards, SSDs, and RAM. Their new GeForce RTX 4090 MGG OC 24G card features the company's Mega Free VC cooling system, with 5x Air Boost fans. It also has a fully aluminum backplate, with MCC RGB Ambient lighting which is its customizable RGB lighting.
As you can tell, this behemoth of a graphics card features five fans. Is that actually a good idea? For better cooling, sure. But for maintaining noise? Not so much. Our testbench containing the Asus RTX 3070 Ti Strix edition with a triple fan design is already quite an audible graphics card during gaming, with slight coil whining too. This Maxsun RTX 4090 MGG graphics card is probably going to exhibit even higher noise levels.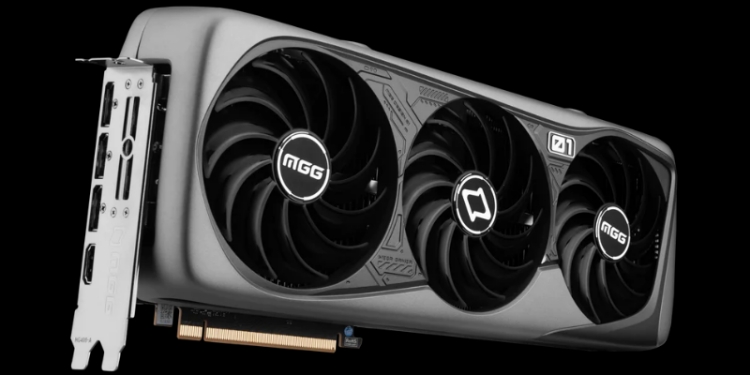 Well, not everyone minds the noise coming from their graphics card. After all, getting an ultra-enthusiast category graphics card of this caliber is an expensive affair, and the liquid-cooled models get even pricier. This behemoth of a GPU by Maxsun will definitely appeal to those people who are big-time fans of air cooling thanks to its penta-fan design.
This Maxsun MGG graphics card features 3x 100mm fans in the front, with two additional smaller fans (dimensions were not specified) on the sides to provide additional cooling. Given the placement of these smaller fans, they probably help in exhausting heat away from the graphics card heatsink. In addition to the five-fan cooler design, it features a zero RPM mode to reduce noise when possible.
RTX 4090 Maxsun MGG (Penta-Fan) vs RTX 4090 Founders Edition (Dual-Fan)
You must be wondering, how fast is this 5-fan-equipped RTX 4090 graphics card? Below are the boost frequencies compared of Nvidia's founder's edition model (dual-fan cooling) against the Maxsun MGG (penta-fan cooling).
| | |
| --- | --- |
| Maxsun RTX 4090 MGG Mega Gamer | 2580 MHz (+60 MHz) |
| Nvidia RTX 4090 Founders Edition | 2520 MHz |
Boost Clocks Compared between NVIDIA Founders Edition and Maxsun's MGG variants
It's not significantly faster, but these 5 fans will definitely help it stay slightly cooler during load. Keep in mind this specific top-of-the-line GPU by Nvidia can take up to 450 to 600 watts of power. At that point, any additional cooling is appreciated to keep temperatures low.
Comparing the sizes of both these GPUs, the Maxsun MGG variant is about 10% longer than the standard FE, and 5mm thicker, too. So, Maxsun has clearly taken the already massive RTX 4090 and made it even bigger. A visual design comparison (not perfectly in terms of scale) between both variants is below:
The availability and pricing of this GPU are unknown for now. Maxsun does not sell graphics cards outside the Chinese market, so this GPU