Revolutionizing Note-Taking with Qept: The Texting Style Note-Taking App
In today's digital era, note-taking has become an essential part of our daily lives. Whether it's jotting down ideas, keeping track of important information, or organizing thoughts, note-taking apps have simplified the process. However, traditional note-taking apps often lack the simplicity and ease-of-use that messaging apps offer. This is where Qept comes in – a note-taking app that combines the convenience of texting with powerful note-taking capabilities.
Take Notes By Sliding in Your Own DMs!?
Developed by Willem de Beijer, Qept revolutionizes note-taking by integrating it with a text-like interface. This unique approach allows users to pen down their ideas and notes in the form of a text chain – simple, efficient, and clutter-free. Qept addresses the limitations of traditional note-taking apps and fills the gap left by messaging apps like WhatsApp. Its key selling point lies in its simplicity.
To get started with Qept, simply sign in using your Apple ID or Google account after installing the app. Once signed in, you'll be taken to the home page where you can start jotting down your thoughts in the text box and hit the send button. It's as easy as texting!
All your notes will appear in the form of a timeline under the "Home" tab. Qept provides an intuitive user interface with essential editing options to organize your notes effectively. You can even create to-do lists with Qept using actionable checkboxes.
How to Organize Your Notes Using Qept
Once you've added your notes, Qept offers a simple way to organize and filter them – by creating custom topics. These topics are easily accessible at the top of the screen, allowing you to quickly navigate and find specific notes. Here's how you can organize your notes using Qept:
1. Click on the three horizontal lines at the top left corner of the screen and select the "Edit Topics" option.
2. In the Edit Topics menu, choose the "Add new topic" option to create a custom topic with a name of your choice. And you're done!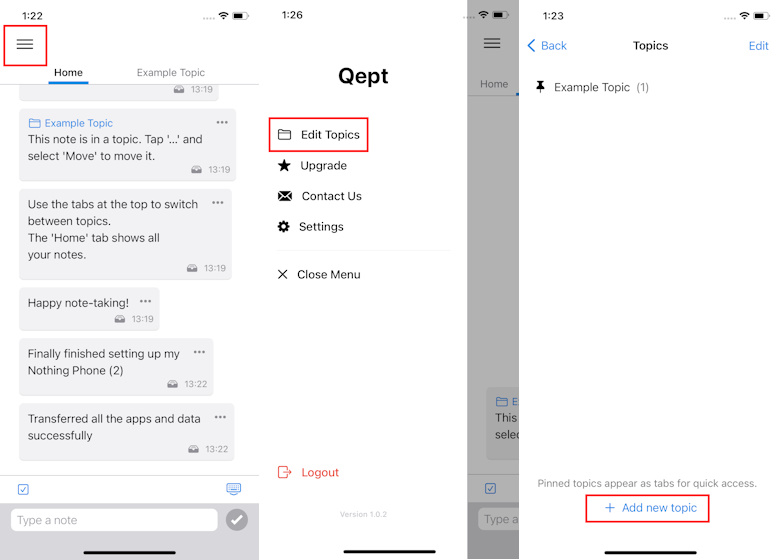 3. Now, you can easily move any message to your custom-made topic by selecting the "Move" option from the horizontal three-dot menu. It's a quick and seamless process.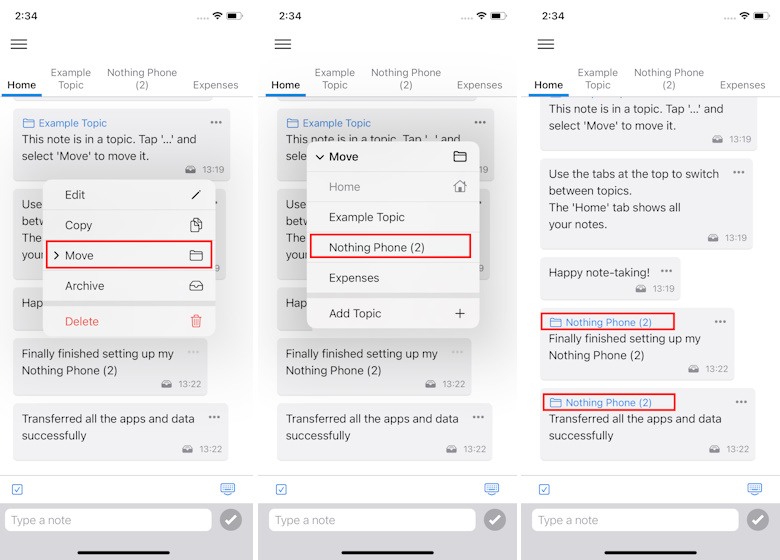 If you're in search of a clean and minimal note-taking app that prioritizes simplicity without compromising on essential features, Qept is the right choice for you. It offers a purpose-driven approach to note taking and is incredibly user-friendly. You can download Qept for free from the App Store. However, if you want to unlock more than three topics, a monthly subscription of $7.99 (~Rs 799) is required. The developer promises to introduce more features and enhancements in future updates.
So, how do you feel about this innovative note-taking app? Does the texting style note-taking capability intrigue you? Give Qept a try and share your thoughts in the comments below!