Samsung Galaxy F34 5G: The New Midrange Offering Launching Soon
Galaxy F34 5G Launch Date Announced
Samsung has been quite consistent when it comes to launching smartphones in India in the budget and midrange segments. With the majority of consumers mostly concentrated within these two sub-categories in India, it only makes sense for the South Korean tech giant to bring competitive and lucrative smartphone offerings. And to keep this trend intact, Samsung has officially revealed that the new Galaxy F34 5G is launching soon. Here's when!
As per the official Samsung website listing and a now-live Flipkart microsite, the new midrange offering from Samsung, the Galaxy F34 5G is set for August 7. Along with this, it has also been revealed that the smartphone will be priced between Rs 16,000 and Rs 17,000.
Impressive Display and Design
The Galaxy F34 5G will feature a stunning 6.5-inch Super AMOLED Full-HD+ display with a 120Hz refresh rate and 1,000 nits of peak brightness. This means that users can enjoy smooth scrolling and vibrant visuals. The display is also protected by Corning Gorilla Glass 5, which provides added durability against scratches and accidental drops.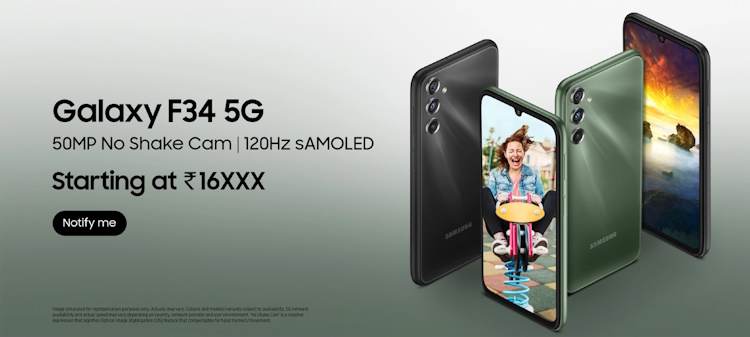 No Shake Cam: Capture Stunning Photos and Videos
The Galaxy F34 5G will sport an impressive 50MP primary camera with Optical Image Stabilization (OIS). Samsung is calling this the "No Shake Cam." The 50MP lens will support Fun filters, Night Photography, and Single Take shots, allowing users to capture stunning photos even in low-light conditions. Whether it's a beautiful landscape or a precious moment with loved ones, the Galaxy F34 5G will ensure that you never miss a shot.
Powerful Performance and Battery Life
Equipped with a 6,000mAh battery, the Samsung Galaxy F34 5G is designed to keep up with your busy lifestyle. Samsung claims that the device can last for up to 2 days on a single charge, allowing you to stay connected and productive throughout the day without worrying about running out of battery. Additionally, the device is expected to run on Samsung One UI 5.1.1 based on Android 13, offering a smooth and intuitive user experience.
Judging by the revealed specifications, the Galaxy F34 5G appears to be a rebranded version of the recently launched Galaxy M34 5G smartphone. However, it will be interesting to see what changes Samsung brings to the device to differentiate it from the Galaxy M34. We will update you with all the details once the phone launches. So, stay tuned for more information on the upcoming Samsung Galaxy F34 5G smartphone.