Reliance Industries Partners with Nvidia to Build India-Specific AI Models
The recent 46th Annual General Meeting (AGM) of Reliance Industries, led by Mukesh Ambani, revealed the company's plan to develop India-specific AI models and AI apps for various use-cases in the country. To achieve this goal, Reliance has teamed up with American GPU maker Nvidia to create a localized Large Language Model (LLM) specifically designed for India.
Jio to Build India-Specific LLM with Nvidia
In an official press release, Nvidia announced its partnership with Jio, the telecom arm of Reliance Industries. The collaboration aims to build AI infrastructure and Generative AI apps that cater to the needs of Indian netizens. Nvidia will provide Jio with their most advanced GH200 Grace Hopper Superchip and DGX Cloud infrastructure, enabling Jio to create a custom LLM for its more than 450 million users. The LLM will be trained on India's diverse language landscape.
This collaboration between Jio and Nvidia will result in the creation of an infrastructure that surpasses the speed and capabilities of the fastest supercomputer in India today.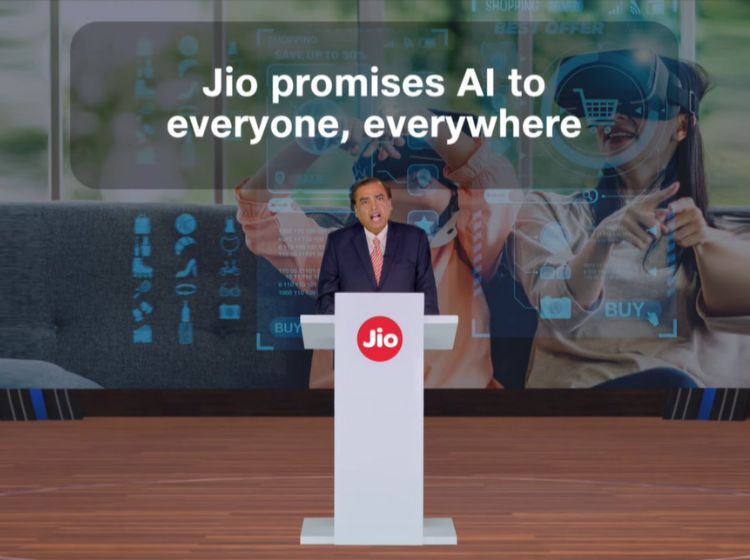 This cloud-based infrastructure will empower Jio to develop highly localized AI products and services. It will also provide opportunities for researchers, developers, startups, and scientists to build upon these models. As part of the deal, Jio will manage the AI infrastructure by hosting it on its AI-ready data centers with up to 2,000 MW capacity. Additionally, Jio will handle the rollout and customer interaction aspects.
Jensen Huang, the founder and CEO of Nvidia, expressed his excitement about the partnership during his recent visit to India, stating, "We are delighted to partner with Reliance to build state-of-the-art AI supercomputers in India. India has the scale, data, and talent. With the most advanced AI computing infrastructure, Reliance can create its own large language models that power generative AI applications made in India, for the people of India."
With this collaboration, Reliance is reinforcing its commitment to provide AI for "everyone, everywhere." This partnership is expected to have a significant impact on various sectors in India, including the government, businesses, and consumers. Can Jio build a localized LLM model that can rival the likes of ChatGPT? We invite you to share your thoughts in the comment section below.