Snapdragon X Elite: A Game-Changing PC Chipset Designed to Outperform Competitors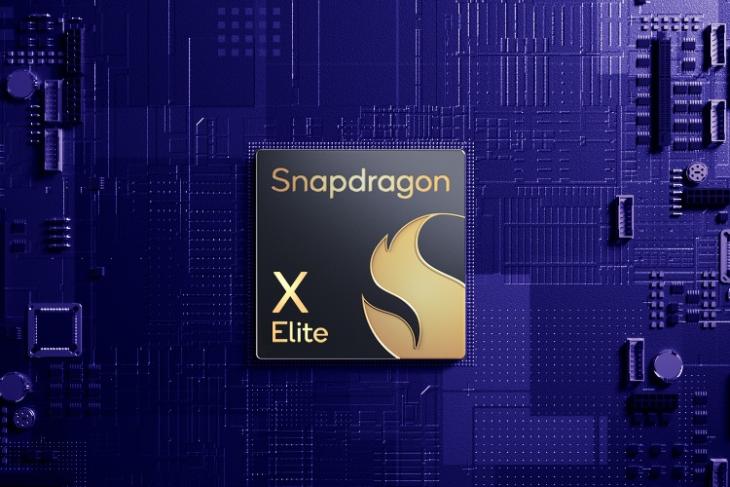 After over two years, Qualcomm's Nuvia acquisition finally bears fruit with new Snapdragon X series chips for PC platforms. Alongside the Snapdragon 8 Gen 3, Qualcomm has come up with a revolutionary PC chipset that could easily rival Apple's M-series processor. The "Snapdragon X Elite" chipset features Nuvia-designed cores and is poised to outperform x86 Intel/AMD processors in the PC world.
Snapdragon X Elite Packs Oryon CPU, Adreno GPU and Hexagon NPU
The Snapdragon X Elite introduces new Oryon cores, a creation of the Nuvia team inside Qualcomm. These cores, built on TSMC's state-of-the-art 4nm process node, give the chipset an edge like never before. Boasting 12 high-performance cores, the CPU can reach a maximum frequency of 3.8GHz, with the ability to boost the clock speed up to 4.3GHz for intensive tasks. With a tri-cluster design housing four cores in three tiles, the Snapdragon X Elite offers an impressive combination of power and efficiency.
Qualcomm has gone above and beyond with the Snapdragon X Elite's cache capacity, totaling up to 42MB. Furthermore, the CPU has access to eight channels of LPDDR5X memory with a remarkable bandwidth of 136GBps. According to the company's claims, the Snapdragon X Elite delivers 2x faster CPU performance compared to an x86 12-core laptop processor while matching peak performance at only one-third of the power consumption.
In terms of GPU performance, the Snapdragon X Elite hosts the premium Adreno GPU integrated with the SoC. This powerful GPU delivers remarkable efficiency, providing 2x faster GPU performance than an equivalent x86 integrated GPU in the 3DMark WildLife Stress test. Additionally, the Adreno GPU is 80% faster than a leading x86 integrated GPU, achieving peak performance at only one-fifth of the power consumed.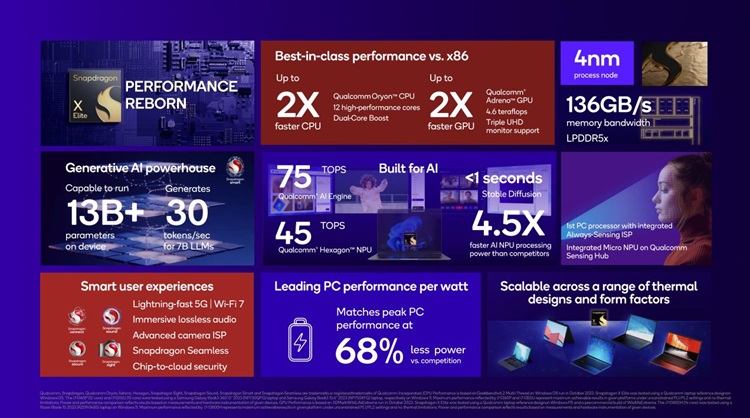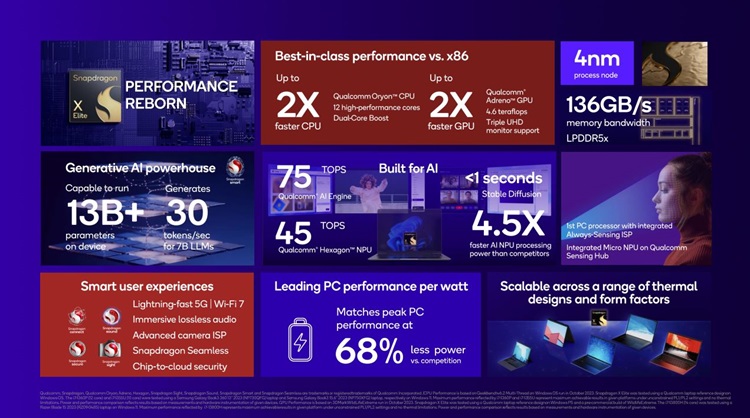 The Adreno GPU on the Snapdragon X Elite is capable of performing 4.6 TFLOPS, handling an internal 4K at 120Hz display, and outputting triple 4K screens or dual 5K screens. Qualcomm ensures upgradability and is working closely with industry partners to provide extensive support for its platform.
Furthermore, Qualcomm has equipped the Snapdragon X Elite with a powerful new Hexagon NPU engine, unleashing the potential for smart AI features on Windows PCs. This Hexagon NPU engine can perform an astounding 45 trillion operations per second (TOPS) and can efficiently run LLMs locally with 13B parameters. With a 7B LLM model running, Qualcomm's new PC chipset can generate an impressive 30 tokens per second.
Additionally, for the first time, Windows PCs will have the Qualcomm always-sensing hub, ensuring quicker processing of AI tasks such as noise cancellation, presence detection, and voice chat. Laptop manufacturers will also have the option to pair the Snapdragon X Elite with the Snapdragon X65 5G modem to build an always-on, always-connected offering. The Snapdragon X Elite also brings lossless audio support, Wi-Fi 7 capability, Microsoft Pluton support for security, Snapdragon seamless integration with smartphones, and more.
Snapdragon X Elite Laptops: Availability
According to Qualcomm, the Snapdragon X Elite platform is set to debut on Windows laptops in mid-2024. Partnering with industry giants such as Dell, Lenovo, Microsoft, and others, Qualcomm plans to offer the chipset in various configurations, TDPs, and thermal designs. The launch of Snapdragon X Elite is expected to revolutionize the PC market. Are you ready to witness the future of computing?