Qualcomm Unveils the Next Generation Snapdragon G Series
Qualcomm, the renowned manufacturer of powerful SoCs (system on chip), is known for producing top-of-the-line processors like the Snapdragon 8 Gen 2 which competes head-on with Apple's A series. Today, the company has made a groundbreaking announcement, unveiling a new lineup of SoCs designed specifically for handheld gaming consoles. These chips are set to revolutionize the mobile gaming industry, offering high-fidelity graphics and extended battery life.
The New Snapdragon G3X Gen 2: A Game-Changer
The highlight of Qualcomm's latest announcement is the Snapdragon G3X Gen 2, an upgraded version of the G3X Gen 1, which had become outdated in terms of performance. This new SoC is touted as an "enthusiast-class" processor that harnesses the best of Qualcomm Technologies. Featuring an 8-core Kyro CPU and Adreno A32 GPU, the G3X Gen 2 offers a remarkable 2x faster graphics performance compared to its predecessor. Although the CPU is only 30% faster, the significant boost in graphics capabilities makes the G3X Gen 2 a powerhouse SoC. To ensure widespread adoption, Qualcomm has partnered with leading brands, such as Inventec, Ayaneo, Huaqin, Thundercomm, and more, to launch new handheld gaming consoles powered by the Snapdragon G Series platform.
Enhancing the new generation of Snapdragon G Series chips, Qualcomm has integrated Wi-Fi 7 technology for improved wireless networking performance. The Wi-Fi 7 modem supports High-Band Simultaneous (HBS), enabling the utilization of multiple Wi-Fi radios at the same time, resulting in faster speeds. In addition to Wi-Fi 7, the Snapdragon G3X Gen 2 also supports 5G sub-6 and mmWave, making it truly future-proof. Notably, this SoC introduces game super-resolution, XR glass tethering, low-latency premium Bluetooth audio, and hardware-accelerated ray-tracing, thus pushing the boundaries of mobile gaming.
Snapdragon G1 Gen 1 & G2 Gen 1
Alongside the Snapdragon G3X Gen 2, Qualcomm has also introduced the Snapdragon G1 and Snapdragon G2 chips. The G1 is specifically designed to power portable gaming consoles optimized for game streaming. Qualcomm has prioritized connectivity and ensured a lag-free gaming experience, complemented by long battery life. Equipped with an 8-Core Kyro CPU and Adreno A11 GPU, the G1 delivers exceptional performance.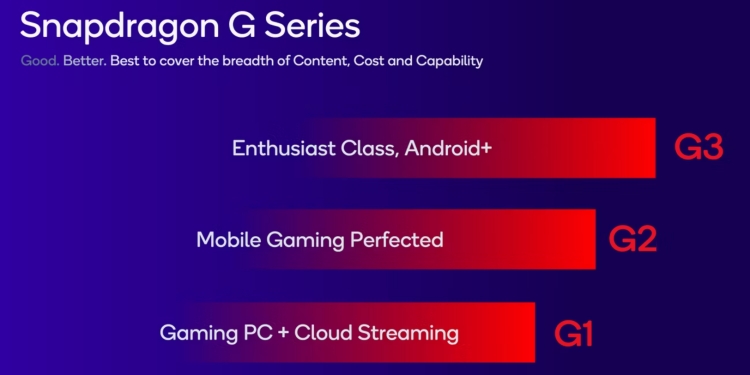 The Snapdragon G2, on the other hand, caters to high-end mobile gaming and cloud experiences. Supporting both 5G and Wi-Fi 6E, this SoC ensures seamless connectivity, including support for 6GHz bands. Qualcomm has integrated its FastConnect 6700 Mobile Connectivity system into the G2, enabling a superior wireless experience. With an 8-Core Kyro CPU and Adreno A21 GPU, the G2 offers excellent performance, capable of running games at FHD+ resolution and an impressive 144FPS.
Qualcomm's Snapdragon G Series announcement marks a major leap forward for the gaming industry. These new SoCs promise not only better battery life but also enhanced visual quality for gamers. It will be intriguing to see how this next generation of Snapdragon chips transforms the gaming landscape. Share your thoughts in the comments below.