Philips TAB7007 Soundbar: Elevate Your Sound Experience
The Philips TAB7007 soundbar is a game-changer in the world of audio technology. With its sleek design, wireless subwoofer, and support for Dolby Audio, this soundbar is the ultimate choice for those seeking a superior sound experience. Let's dive into the specs and features that make the Philips TAB7007 stand out.
Geometric Design for Enhanced Audio
The Philips TAB7007 boasts a geometric design that not only adds a touch of elegance to your space but also enhances audio quality. The Robust Metal Grille ensures clearer audio whether you're gaming or watching intense movie scenes. This soundbar is also wall-mountable, allowing you to create a seamless audio setup in your home.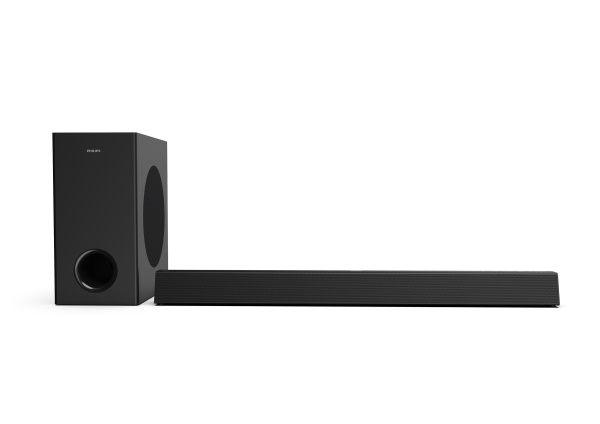 A Multi-Dimensional Sound Experience
The Philips TAB7007 comes with a 2.1-channel wireless subwoofer that features a 5.25-inch subwoofer driver. This setup ensures a multi-dimensional sound experience that immerses you in the audio content. Additionally, the soundbar itself delivers an impressive sound output of 240W, thanks to its two front-firing speakers. Get ready to enjoy a surround sound experience like never before.
Moreover, the Philips TAB7007 supports Dolby Audio and Dolby Digital, enhancing the audio quality of your favorite movies, music, and news. With different sound modes like Music, Movies, and News, you can customize the sound to suit your preferences and content type.
Mr. Atul Jasra, Country Head, TPV Technology India Pvt. Ltd, expressed his excitement about the launch of the Philips TAB7007 soundbar, stating, "In our endeavor to provide consumers with state-of-the-art technology and value for money, we have introduced the all-new Philips TAB7007 soundbar, offering a culmination of cutting-edge technology, impeccable design, and high-quality audio performance for an immersive sound experience. At TPV Technology, we will continue to introduce a newer and more advanced range of products to meet the needs of our evolving consumer base."
Seamless Connectivity and Convenience
The Philips TAB7007 soundbar provides a plethora of connectivity options to ensure a seamless audio experience. With Bluetooth 5.3, you can easily connect your devices and enjoy wireless audio streaming. The soundbar also features USB ports, Optical-in and Audio-in 3.5mm audio jack, and Advanced HDMI ARC technology, offering versatile connectivity options to suit your setup.
Additionally, the Philips TAB7007 comes with a convenient remote control that allows you to effortlessly change songs, adjust volume levels, and more. Say goodbye to getting up from your seat just to control your audio settings.
Price and Availability
The Philips TAB7007 soundbar is priced at Rs 21,990 and is available for purchase through leading online portals including Flipkart and Amazon. As of now, it is available on Amazon for a special price of Rs 10,989. The soundbar is sleek and stylish in black, complementing any home aesthetic.
Elevate your sound experience with the Philips TAB7007 soundbar. Immerse yourself in superior audio quality, sleek design, and advanced features. Upgrade your home entertainment setup and enjoy a truly immersive sound experience like never before.