MSI Stealth 16 Mercedes-AMG Motorsport Edition: A Luxury Gaming Experience
Introduction
MSI has recently launched its exclusive Stealth 16 laptop in partnership with Mercedes-AMG Motorsport in India. This collaboration aims to provide gamers with a one-of-a-kind luxury gaming experience, coupled with the pride of owning Mercedes memorabilia. The laptop was first unveiled at Computex 2023 and has now made its way to the Indian market. Let's delve into the exciting details of this special edition gaming laptop.
MSI Stealth 16 Mercedes Edition: Specs and Features
The MSI Stealth 16 Mercedes-AMG Motorsport Edition laptop boasts a sleek and minimal design, crafted with a Magnesium-Aluminum alloy. The lid proudly flaunts the iconic Mercedes-AMG and MSI branding. To enhance the overall aesthetic, the laptop features a per-key RGB SteelSeries Keyboard. The star of the show is undoubtedly the astounding 16-inch 4K UHD+ OLED narrow-bezel display, offering a mesmerizing visual experience with its 60Hz refresh rate and 16:10 aspect ratio.
Powering this special edition device is the mighty 13th Gen Intel Core i9-13900H processor, ensuring unparalleled performance. Users have the option to pair the laptop with either the Nvidia RTX 4060 GPU or the Nvidia RTX 4070 GPU, enabling exceptional gaming graphics. Additionally, the laptop supports up to 64GB of DDR5 RAM and up to 2TB of PCIe Gen 4 SSD, enabling ample storage and smoother multitasking. The MSI's in-house Cooler Boost 5 thermal management system, equipped with two fans and five heat pipes, ensures optimal cooling during intensive gaming sessions. Moreover, the Discrete Graphics Mode allows gamers to harness the full potential of the GPU for an immersive gaming experience.
Design and Connectivity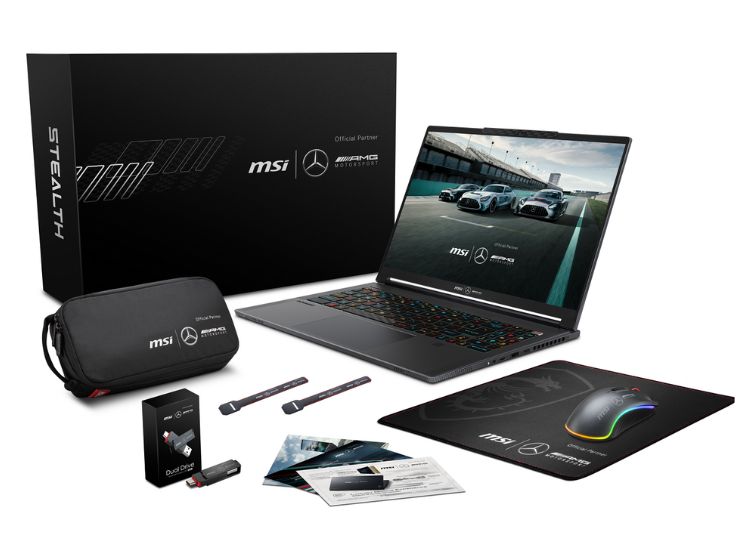 The MSI Stealth 16 Mercedes Edition laptop showcases an exquisite design, thanks to its Magnesium-Aluminum alloy build and the prominent Mercedes-AMG and MSI branding on the lid. It features a host of connectivity options, including an HDMI port, a Thunderbolt 4 port with PD charging support, and an RJ45 port. Moreover, the laptop supports Wi-Fi 6E and Bluetooth 5.3, ensuring seamless connectivity. Gamers can also indulge in an extraordinary audio experience, as the laptop houses two 2W speakers and four 2W Woofers, powered by Dynaudio technology. Additionally, the laptop incorporates a 1080p 30fps Full-HD IR camera for convenient Windows Hello login.
Price and Availability
The Mercedes-AMG Motorsport Edition Stealth 16 laptop is priced at Rs 2,89,990 for the base variant and goes up to Rs 3,59,990 for the higher-end configuration. The laptop will be available for purchase from August 13 through leading platforms like Flipkart, Amazon, and MSI-authorized retail outlets in Mumbai, Bengaluru, Delhi, Chennai, and Ahmedabad. You can also pre-order the device now on Flipkart and Amazon. As a bonus, the special edition laptop comes bundled with exclusive accessories, including a special edition mouse, mouse pad, cable ties, USB drive, Mercedes motorsport postcards, and an accessories pouch, all elegantly packaged in a special edition box.
Experience the luxury of gaming like never before with the MSI Stealth 16 Mercedes-AMG Motorsport Edition. This laptop combines cutting-edge technology, stunning design, and a touch of Mercedes elegance to deliver an unmatched gaming experience. Stay ahead of the competition with this extraordinary gaming machine that will truly make you feel like a winner. Upgrade to the MSI Stealth 16 today!