Microsoft Surface Laptop Studio: Next-Gen High-End Device
Introduction
Microsoft's hardware event for 2023 is just around the corner, and the tech world is buzzing with excitement about the new Surface devices that are expected to be unveiled. Among the highly anticipated releases are the rumored Surface Laptop Studio 2 and the Surface Laptop Go 3. In this article, we will explore what can be expected from these devices and what makes them stand out.
Surface Laptop Studio 2: Leaked Specifications
A recent report by Winfuture.de has leaked the complete specifications of the Surface Laptop Studio 2. This high-end device is set to impress with its top-of-the-line features and powerful performance. It is expected to be similar to its predecessor, but with some notable upgrades.
The Surface Laptop Studio 2 is rumored to come equipped with the latest Nvidia RTX 40-Series GPUs, making it a true powerhouse for graphical-intensive tasks. Additionally, it is expected to feature up to 64GB of LPDDR5X RAM, which is a significant improvement compared to previous models. The device might offer users the choice of the 13th Gen Intel Core i7-13700H and Core i7-13800H CPU options, delivering exceptional speed and efficiency. Storage-wise, it could come with up to 1TB of SSD, ensuring ample space for all your files and applications.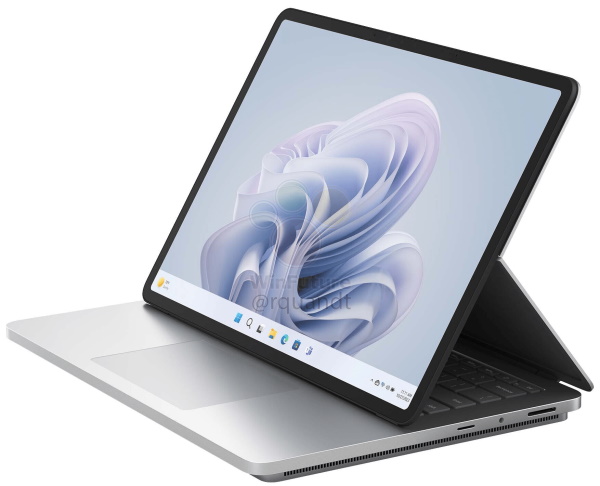 The display of the Surface Laptop Studio 2 is expected to be a 14.4-inch screen with a 120Hz refresh rate, a resolution of 2400×1600 pixels, and a 3:2 aspect ratio. This high-quality display will provide users with an immersive visual experience. Additionally, the device might support stylus input for enhanced productivity and creativity.
In terms of connectivity, the Surface Laptop Studio 2 is rumored to include a microSD card reader for expanded storage options, a USB Type-A port for versatile connectivity, and two Thunderbolt 4 ports for lightning-fast data transfer and external display support.
Furthermore, this device is expected to come with a 58Whr battery, offering an impressive battery life of up to 19 hours on a single charge. With Windows 11 as its operating system, users can expect a seamless and efficient user experience. As for the price, the Surface Laptop Studio 2 is rumored to start at Euros 2,249 (~ Rs 1,99,000) and go up to Euros 3,700 (~ Rs 3,27,000).
Surface Laptop Go 3: Affordable & Reliable
Alongside the high-end Surface Laptop Studio 2, Microsoft is also expected to launch the Surface Laptop Go 3. This more affordable option aims to provide users with a reliable and versatile device for everyday use.
The Surface Laptop Go 3 is likely to feature the Intel Core i5-1235U CPU, offering a balance between performance and power efficiency. With a 12.45-inch display, users will have a compact yet functional screen to work on. It is expected to offer up to 8GB of RAM and 256GB of storage, providing sufficient memory for multitasking and storing files.
Starting at Euros 899 (~ Rs 79,500), the Surface Laptop Go 3 aims to provide an affordable option for users seeking a reliable laptop for daily tasks. It might be an ideal choice for students, professionals, and anyone on a budget.
Conclusion
The upcoming Microsoft hardware event promises to introduce some exciting additions to the Surface lineup. The Surface Laptop Studio 2 and Surface Laptop Go 3 are expected to offer high-end performance and affordability, respectively. Whether you are a power user in need of top-notch specifications or a budget-conscious individual searching for a reliable device, Microsoft has something for everyone. Stay tuned for the official launch on September 21, and get ready to experience the next generation of Surface devices.
Which device are you most excited about? Share your thoughts in the comments below.
Featured Image: Surface Laptop Studio