Microsoft Surface Laptop Studio: A Powerful and Innovative Device
Microsoft is all set to unveil its latest hardware offerings at the highly anticipated Surface 2023 event on September 21, 2023. Among the exciting lineup, the Surface Laptop Studio 2, Surface Go 4, and Surface Laptop Go 3 are expected to take the spotlight. In this article, we will delve into the details of these devices and explore their impressive features and specifications.
Surface Laptop Studio 2: Harnessing the Power of Intel's 13th Gen CPU
The Surface Laptop Studio has always been one of Microsoft's most impressive offerings, and the rumored upcoming Surface Laptop Studio 2 is no exception. It is expected to come equipped with brand-new Intel processors, with the leak specifically mentioning the Intel Core i7-13800H processor.
Featuring a base TDP of 45W and a maximum turbo power of 115W, the Surface Laptop Studio 2 will deliver impressive performance. The final turbo power limit will depend on the cooling system implemented by Microsoft. With its rumored configuration of 14 total cores (6 P-Cores + 8 E-Cores) and the ability to boost up to 5GHz, this device promises unmatched power.
Furthermore, the leak suggests that the Surface Laptop Studio 2 will offer configurations of 16/32GB RAM with 512GB/1TB storage options. It is highly likely that the device will incorporate advanced DDR5 memory, which brings numerous improvements compared to DDR4. Additionally, the new display is rumored to be a 14.4-inch panel with a resolution of 2400×1600 pixels, offering a stunning visual experience.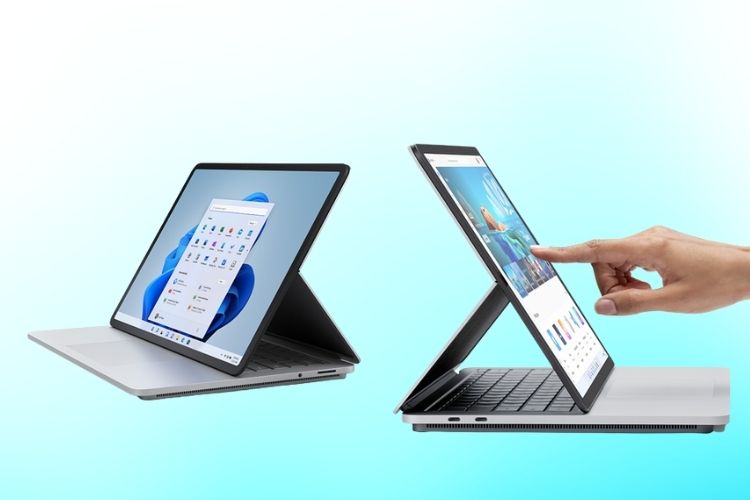 Surface Go 4 & Surface Laptop Go 3: Leaked Specifications
In addition to the Surface Laptop Studio 2, Microsoft is also expected to introduce the Surface Go 4 and Surface Laptop Go 3, catering to different user preferences and requirements.
The Surface Go 4, a highly-anticipated device, is rumored to feature Intel processors instead of ARM. While the laptop's official name remains unknown, reports suggest that an ARM processor is not in the works. The Surface Go 4 could potentially house the Intel N200 Quad-Core processor, which is part of Intel's Alder Lake N series.
On the other hand, the Surface Laptop Go 3 is likely to retain a last-gen Intel chip from 2022. The leaked information suggests that the device might be equipped with the Intel Core i5-1235U processor. Although this chip boasts 10 cores (2 P-cores & 8 E-cores), it would have been great to see a 13th-generation chip in this device. However, Microsoft seems to reserve the 13th generation for its higher-end laptops.