Llama 2: Meta's New Open-Source AI Model
Introduction
We recently heard some chatter that Meta is gearing up to enter the AI Race with its own "open-source" Large Language
Model. And now, the Mark Zuckerberg-owned company has confirmed those chatters with the launch of its Llama 2 Large Language
Model. With this debut in the commercial AI space, Meta aims to take on the likes of Google's Bard, Microsoft's Bing AI,
and OpenAI's ChatGPT, the big names in this space. Continue reading to know more about Lllama 2.
Collaboration with Microsoft
In an official blog post, Meta introduced the next generation of Llama, Llama 2 to the world in collaboration with Microsoft.
Yes, you heard that right! Meta has collaborated with Microsoft to foray into the commercial AI space. Right from the launch,
researchers and companies across the globe will be able to gain access to Llama 2. They can train them with their own proprietary
data and custom-tailor the AI model to suit their needs.
The Buzzword: Open-Source
The biggest buzzword with Llama 2 release is open-source. This means that the source code and parameters
of Llama 2 are being made publicly available (only to researchers and partner businesses for the time being). Meta believes
that by making its Large Language Model (LLM) open-source, businesses, startups, entrepreneurs, and researchers can create
machine-led scalable advancements and breakthroughs. Also, it will provide an opportunity for developers and researchers
to improve the AI model further and fix vulnerabilities as and when they appear, in real-time.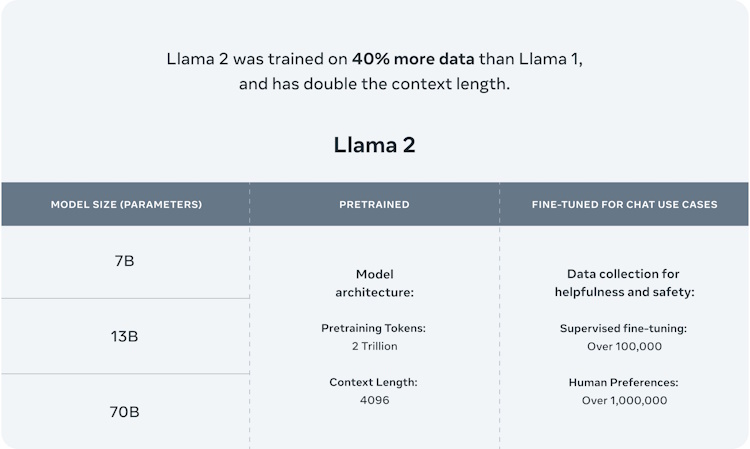 Llama 2 Technical Specifications
At launch, Llama 2 will use Llama codes ranging from 7B to 70B parameters. Meta claims that Llama 2 has
been trained on 40% more data than its predecessor. With the download of each model of Llama 2, users will receive the
Model code, the Model Weights, the README (User Guide), the Responsible Use Guide, the License, the Acceptable Use Policy,
and Model Card. Additionally, Llama 2 is optimized to run locally on Windows.
Try Llama 2 Today
You can get your first taste of Llama 2 via Hugging Face.
Other providers as of now include Microsoft Azure (Azure AI Model catalog) and Amazon Web Services (AWS). Try out Meta's
first commercial LLM for yourself and comment your experience down below!