Instagram Threads App Update: Enhanced Features and Translation
Instagram Threads for iOS Update: Details
The Instagram Threads app recently made its official debut, and it has quickly gained popularity with over 100 million subscribers worldwide in just 5 days. Now, the app on iOS has received several updates to enhance the user experience and introduce a major addition.
Meta has rolled out a significant performance and overall experience update to the Threads app for iOS as part of the 292.0 version update. Cameron Roth, the Threads developer, has confirmed this update via Threads.
The Highlight: Translation Feature
One of the standout features in this update is the inclusion of a translation feature. With the global availability of the Threads app, it was crucial to add the ability to translate elements within the app. This feature is especially significant for countries like India, where every region has its own language. Now, with the added translation feature, Threads can continue its monumental growth even further.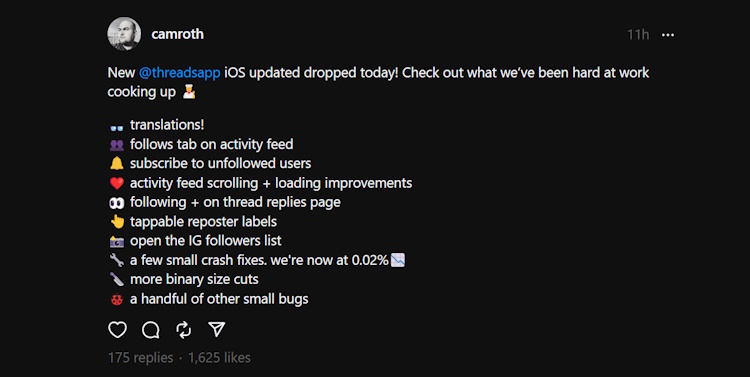 Additionally, this version update allows users to view the Instagram followers list of their chosen Threads account. A new Follows tab is also introduced on the activity feed, which displays followers, interactions, and replies.
Further enhancements include:
The option to subscribe to unsubscribed followers
Access to tappable reposter labels
The ability to follow someone directly from the Threads reply page using the "+" icon
Minor bug fixes
Improved activity feed scrolling and loading
The Instagram Threads app by Meta has already refined itself in its short lifespan. However, it still lacks some integral features, such as the ability to see content only from your followers and alt text for images. Nevertheless, with the rate of updates and Meta's commitment to establishing Threads as a worthy Twitter competitor, the app is expected to receive these much-requested features and further enhancements soon.
What are your thoughts on this new update for the Meta app on iOS? Will these enhancements improve the way you interact with the app? Share your comments below.