Jio Introduces Prepaid Plans with Free Netflix Subscription
Jio Netflix Prepaid Plans Introduced
Jio, the leading telecom operator in India, has recently launched two new prepaid plans that come bundled with a free Netflix subscription. This marks the first time Jio has included Netflix's subscription with a prepaid plan, offering users an exciting new way to enjoy their favorite shows and movies. Let's take a closer look at the details of these new Netflix Jio plans and see if they're worth considering.
Rs 1,099 Jio Prepaid Plan
The Rs 1,099 prepaid plan from Jio not only comes with a Netflix subscription, but it also offers 2GB of data per day and unlimited calls. This plan includes Netflix's mobile version, which is viewable on smartphones only. Additionally, users will have access to unlimited 5G data with Jio's Welcome offer. This prepaid plan has a validity of 84 days, giving users ample time to enjoy their favorite content on Netflix.
Rs 1,499 Jio Prepaid Plan
For users who prefer a more comprehensive Netflix experience, Jio offers the Rs 1,499 prepaid plan. This plan includes Netflix's Basic plan, 3GB of data per day, and unlimited calls. The Basic plan allows users to watch content in 720p resolution, and it can be accessed not only on smartphones but also on tablets, PCs, and TVs. With a validity of 84 days, this prepaid plan is perfect for avid Netflix users.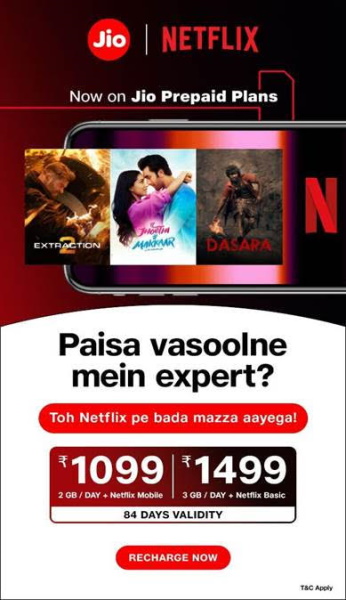 Kiran Thomas, the CEO of Jio Platforms Limited, expressed his excitement about the launch of these Netflix bundles with Jio's prepaid plans. He stated, "We are committed to bringing world-class services to our users. The partnership with global partners like Netflix has grown in strength, and together we are creating use cases for the rest of the world to follow."
When it comes to the Netflix subscription itself, Jio users will have two options: the Rs 149 per month plan and the Rs 199 per month plan. The Rs 149 plan allows users to watch movies and shows in 480p resolution on a smartphone or tablet. On the other hand, the Rs 199 plan offers content in 720p resolution and can be accessed on smartphones, tablets, PCs, and TVs. Both plans are ad-free, providing a seamless viewing experience for subscribers.
While Jio has previously offered Netflix with its postpaid plans and JioFiber broadband prepaid and postpaid plans, these new prepaid plans make Netflix subscriptions more accessible to a wider range of users. Although the plans are currently not available on Jio's website, they are expected to be released soon.
If you're a Netflix enthusiast looking for a new way to enjoy your favorite movies and shows, Jio's prepaid plans with free Netflix subscriptions could be just what you need. Stay tuned for updates on the availability of these plans and make sure to grab them when they become available. Let us know in the comments below if you're considering purchasing any of the Netflix Jio prepaid plans!