Reliance Jio Announces 26 GHz 5G mmWave Connectivity for Businesses
Jio 26GHz mmWave 5G Connectivity Rollout in India
Reliance Jio has brought a major revolution in mobile connectivity in India, first with the introduction of 4G back in 2015 and now True 5G in 2022. The company has successfully rolled out 5G connectivity across the country at a rapid pace, ensuring that users enjoy a dependable and high-speed experience. To demonstrate its continued dedication, Jio has now started rolling out 26GHz mmWave 5G connectivity for businesses in the country.
The Launch of 5G-based 26GHz mmWave Spectrum for Businesses
Jio has announced the launch of 5G-based 26GHz millimeter wave (mmWave) spectrum for businesses across all 22 telecom circles. This move is aimed at fulfilling the minimum rollout obligation set by the Department of Telecommunication (DoT). This comes after Bharti Airtel launched its 5G-based 26GHz millimeter wave spectrum recently. The press release additionally states that the telecom branch of the company submitted the details for the Phase 1 minimum roll-out obligation back on July 19, 2023, with the DoT.
The Significance of mmWave Technology
For those unfamiliar, mmWave technology is designed to enable both current and future 5G networks to achieve top-of-the-line speed and dependability. This announcement from Jio is significant because the company uses a unique combination of low-band, mid-band, and mmWave spectrum, backed by deep fiber and indigenous technology. This unique blend allows Jio to provide "5G Everywhere and 5G For All Consumers and Enterprises" with low latency and high bandwidth. Additionally, Jio claims to have the highest spectrum footprint with 1,000MHz in the 26GHz mmWave band.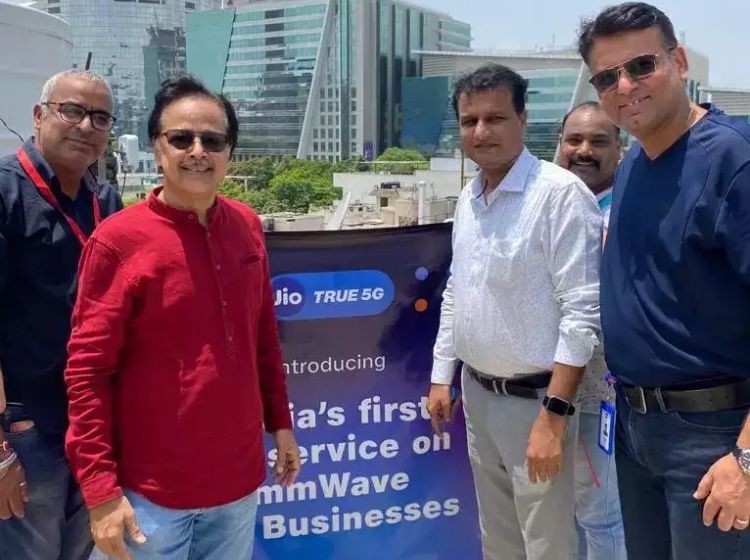 Commenting on the launch, Akash Ambani, the Chairman at Reliance Jio Infocomm said, "Honouring our commitment to the Government of India, the Department of Telecommunications, and the 1.4 billion Indians towards accelerated roll-out of high-quality 5G services, we are proud to announce that we have taken India to the leadership position globally in speed of roll-out of 5G services. This is one of the fastest 5G roll-outs of this scale globally and gives India a prominent position on the global 5G map. The benefits of 5G mmWave include extremely high bandwidth and low latency."
Enhanced Connectivity and Business Solutions for Enterprises
This launch will give enterprises looking to deploy emerging and innovative apps faster speeds and less delay than previous wireless networking technologies. mmWave business solutions will expand the market for leased lines by providing equally dependable fixed-wireless services, thereby digitizing millions of small and medium enterprises with enterprise-grade connectivity and business solutions. This spectrum is capable of providing ultra-high-speed broadband of up to 2 Gbps.
With the introduction of 26 GHz 5G mmWave connectivity for businesses, Reliance Jio is once again proving its commitment to delivering cutting-edge technology and services in India. This move will undoubtedly enhance the connectivity landscape for enterprises and pave the way for the transformation of various sectors. The high bandwidth, low latency, and extensive spectrum footprint make Jio a frontrunner in the 5G race, both in India and globally.
What are your thoughts on this new announcement from Jio? How do you think businesses in the country will benefit from this connectivity feature? Let us know in the comments below!