JBL Bar 1300: Experience Theater-Like Sound in Your Home
JBL Bar 1300: Specs and Features
HARMAN Kardon's JBL has recently launched the highly anticipated JBL Bar 1300 soundbar in India. This premium soundbar is packed with advanced features including support for Dolby Atmos, JBL's PureVoice technology, and more. Let's delve into the details of this impressive soundbar.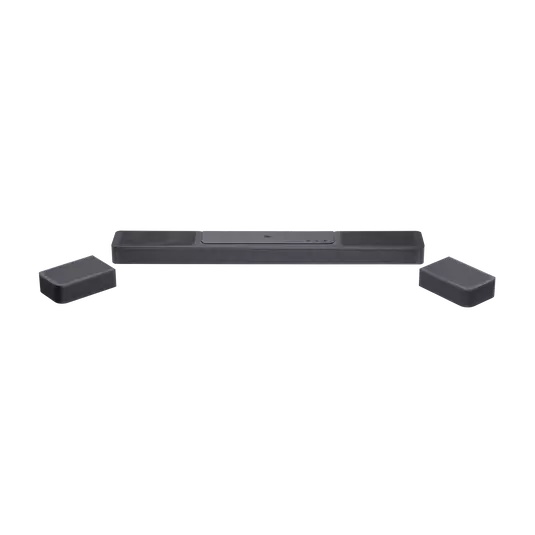 The JBL Bar 1300 boasts a 11.1.4-channel configuration, ensuring an immersive audio experience. The soundbar features six up-firing drivers, providing impressive sound projection. It also includes detachable wireless surround speakers that can be used either as standalone speakers or paired together. Additionally, there is a powerful 10-inch wireless subwoofer that adds depth to the audio. With a total power output of 1,170W, this soundbar delivers powerful and detailed sound reproduction.
One of the standout features of the JBL Bar 1300 is its support for Dolby Atmos and DTS:X 3D surround sound. These advanced audio technologies create a multi-dimensional soundstage, making you feel like you're in the heart of the action. Whether you're watching movies, playing games, or listening to music, the JBL Bar 1300 elevates your audio experience to new heights.
In addition, the soundbar incorporates JBL's innovative MultiBeam technology, further enhancing the surround sound experience. This technology creates a wider soundstage, filling your entire room with immersive audio.
To ensure crystal-clear dialogue even amidst loud sound effects, the JBL Bar 1300 features PureVoice technology. With intelligent algorithms, PureVoice prioritizes and enhances the clarity of voices, allowing you to catch every word without straining.
Vice President of Lifestyle at HARMAN India, Vikram Kher, expressed his excitement about the JBL Bar 1300, stating, "Our all-new JBL Bar 1300 is designed to bring the magic of a theater right to your home with its exceptional sound. It delivers every distinct sound, from the slightest footstep to the most entertaining music played in movies. The BAR 1300 promises to take your movie nights and music sessions to a whole new level, providing you with an extraordinary audio journey like never before."
Another noteworthy feature of the JBL Bar 1300 is its compatibility with voice assistants such as Siri, Google Assistant, and Alexa. You can control the soundbar's functions and access various features using voice commands. Additionally, the soundbar supports AirPlay 2, Alexa Multi-Room Music (MRM), and built-in Chromecast, allowing seamless connectivity and streaming from compatible devices.
With built-in Wi-Fi (802.11 a/b/g/n/ac/ax) and Bluetooth 5.0, the JBL Bar 1300 offers versatile connectivity options. You can easily connect your devices wirelessly or use the HDMI eARC port for high-quality audio performance. The soundbar also supports Dolby Vision passthrough, ensuring compatibility with the latest visual standards.
For personalized sound adjustments and optimizations, the JBL Bar 1300 can be controlled using the JBL One app. From equalizer settings to fine-tuning certain audio aspects, you have complete control over your listening experience.
Price and Availability
The JBL Bar 1300 is currently available at an introductory price of Rs 1,49,999 (MRP, Rs 1,59,999) and can be purchased through the official JBL website. It comes in a sleek black color, adding a touch of elegance to any home entertainment setup.
Experience the immersive sound of the JBL Bar 1300 and transform your home into a personal theater. Elevate your audio experience to new heights with Dolby Atmos, JBL's PureVoice technology, and a plethora of advanced features.