Intel Introduces Thunderbolt 5: The Next Generation of Lightning-Fast Connectivity
The latest addition to Intel's impressive lineup of connectivity solutions, Thunderbolt 5, has just been unveiled. With its enhanced speed and improved connectivity, Thunderbolt 5 is set to revolutionize the way content creators and gamers interact with their devices. In this article, we will delve into the exciting features and capabilities of Thunderbolt 5, leaving no doubt as to why it is poised to outrank other connectivity options.
Thunderbolt 5 Introduced
Thunderbolt 5 takes a giant leap forward by offering a staggering 80Gbps bi-directional bandwidth, doubling the speed of its predecessor, Thunderbolt 4. The introduction of Bandwidth Boost allows Thunderbolt 5 to achieve an impressive 120Gbps bandwidth, thrice that of Thunderbolt 4. With such lightning-fast speeds, Thunderbolt 5 is well-suited for high-resolution displays and significantly increases both upstream and downstream bandwidth allocation.
Support for Dual 8K Displays and More
One of the standout features of Thunderbolt 5 is its ability to support dual 8K displays, a substantial improvement over Thunderbolt 4's support for dual 4K monitors. Additionally, Thunderbolt 5 can handle refresh rates of up to 560Hz for a seamless visual experience. If that wasn't impressive enough, Thunderbolt 5 also boasts the advantage of offering support for three 4K displays with a 144Hz refresh rate. Furthermore, Thunderbolt 5 features double the PCIe lanes (64Gbps), enabling faster storage and external SSDs, as well as enhanced performance for eGFX, creator tools, and more.
Built on Cutting-Edge Technology
Thunderbolt 5 utilizes the power of PCI Express Gen 4, USB4 V2, and DisplayPort 2.1 to deliver an unparalleled user experience. One of the distinctive technologies incorporated into Thunderbolt 5 is PAM-3 signaling, which provides noticeable performance gains. Moreover, Thunderbolt 5 offers a remarkable 240W of power, ensuring rapid charging speeds through a single USB Type-C cable. With the goal of consolidating connectivity, Thunderbolt 5 makes it possible to utilize a single Type-C cable for most laptops, simplifying and streamlining the user experience.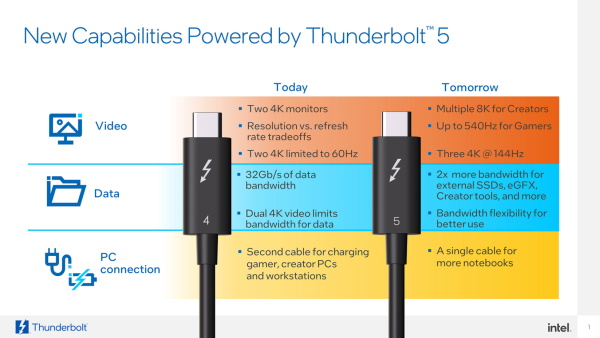 Jason Ziller, the general manager of Intel's Client Connectivity Division, expressed his excitement about Thunderbolt 5's capabilities, stating, "Thunderbolt 5 will provide industry-leading performance and capability for connecting computers to monitors, docks, storage, and more. Intel is excited to continue our tradition of leadership for wired connectivity solutions. Thunderbolt is now the mainstream port for connectivity on mobile PCs, and delivering the next generation of performance with Thunderbolt 5 will provide even more capability for the most demanding users."
Devices and accessories equipped with Thunderbolt 5, codenamed Barlow Ridge, are expected to hit the market in 2024. Although it remains to be seen which products will be the first to adopt this groundbreaking technology, we will keep you informed as soon as any updates are available. Stay tuned for the latest news!