Intel Arc Graphics Q3'23 Update – Major Improvements to DirectX 11 Games
The release of Intel Arc graphics cards in 2022 brought high-performance graphics to the market. Developed by Raja Koduri, the former chief of AMD's graphics division, Intel's dedicated graphics card architecture offers an exceptional gaming experience. With continuous driver updates, the latest driver update for Intel Arc GPUs focuses on enhancing DirectX 11 game performance.
New Intel Arc Graphics Driver Brings Major Improvements
The new Intel graphics drivers deliver significantly better gaming performance across DX11 and DX9 APIs. When it comes to DirectX 9 games, the Intel Arc graphics cards can achieve an average performance boost of up to 43% with the latest drivers. In specific games like CS:GO, The Elder Scrolls V: Skyrim, Stellaris, and Half-Life 2, the performance increase exceeds 70%.
Improved Performance in DirectX9
The benchmark data below showcases the performance improvements of Intel Arc graphics cards running DirectX 9 games at 1080p Ultra resolution. The latest drivers offer substantial enhancements:
CS:GO: Over 70% performance improvement
The Elder Scrolls V: Skyrim: Over 70% performance improvement
Stellaris: Over 70% performance improvement
Half-Life 2: Over 70% performance improvement
Enhanced Performance in DirectX11
In DirectX 11 games, the latest Intel Arc drivers provide a 19% performance boost compared to the launch driver. Additionally, the 99th percentile FPS (frames per second) indicates improved overall smoothness, with a 20% increase in smoothness achieved by the latest drivers.
The benchmark conducted on an Intel Arc A750 paired with an i5-13400F in Valorant showcased a frame rate of 326FPS, indicating the enhanced performance delivered by the latest drivers. Furthermore, the frame-time consistency has been significantly improved, resulting in a smoother gaming experience.
Other popular multiplayer games such as Counter-Strike 2 and Overwatch 2 also witnessed performance gains with the latest drivers. Counter-Strike 2 achieved an FPS boost from 218 to 257, surpassing the 240FPS requirement for a 240Hz gaming monitor. Overwatch 2's performance increased from 138 to 183 FPS with the latest drivers.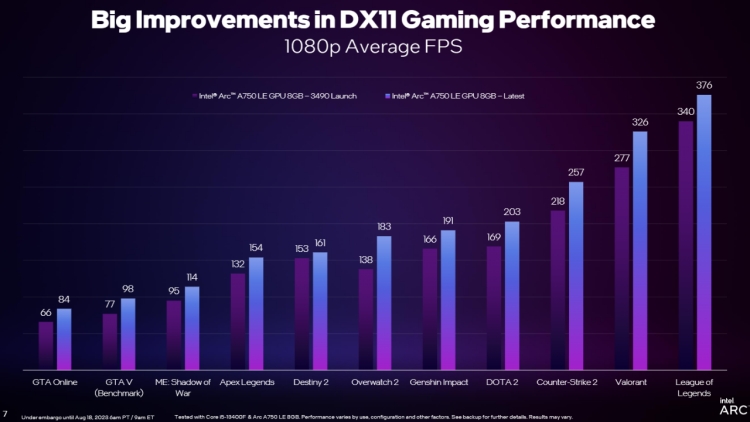 Benchmark Across 11 Games
A comprehensive benchmark comparing the latest Intel Arc driver with the launch driver was conducted across 11 games. The results showcased a remarkable improvement in performance with the latest driver update.
Introducing Intel PresentMon – A Brand-New Monitoring Tool
Alongside the Q3'23 update for Intel Arc Alchemist graphics cards, Intel is introducing a beta version of Intel PresentMon, a monitoring tool designed specifically for monitoring the statistics of Intel Arc GPUs. This software provides essential GPU information such as temperatures, clock frequency, utilization, and a new 'GPU Busy' metric.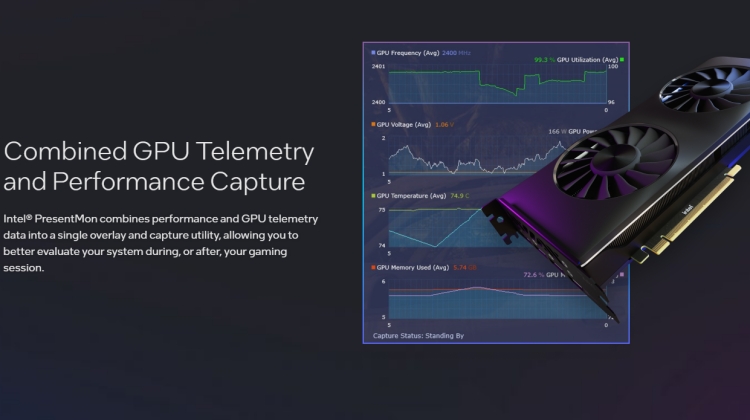 The 'GPU Busy' metric helps users evaluate the balance between the CPU and GPU, allowing them to identify any potential bottlenecks. With broad API support, Intel PresentMon works seamlessly across DirectX, Vulkan, and OpenGL APIs.
With the latest driver update and the introduction of Intel PresentMon, gaming on Intel Arc graphics cards provides a refined and improved experience in 2023.