Instagram Updates Threads with Exciting New Features
New Updates for Instagram Threads
When Meta introduced Threads, it quickly became the next big sensation in the world of social media. In just five days, the app gained over 100 million subscribers, leaving Twitter envious. Meta has been working consistently to make the app even more useful and engaging for its users. In its latest update, Threads brings a host of exciting features that will surely capture your attention. Let's dive into the details of what's new with Threads.
Share Threads Posts Directly to Instagram DM
Mark Zuckerberg, in his recent Threads post, announced three key features that are now live on the platform. The first and most noteworthy feature is the ability to share a Threads post directly to Instagram DM. You can now click on the three horizontal dots next to any post and select the "Send to Instagram" option. This will redirect you to Instagram, allowing you to effortlessly share the post with individuals or multiple recipients simultaneously.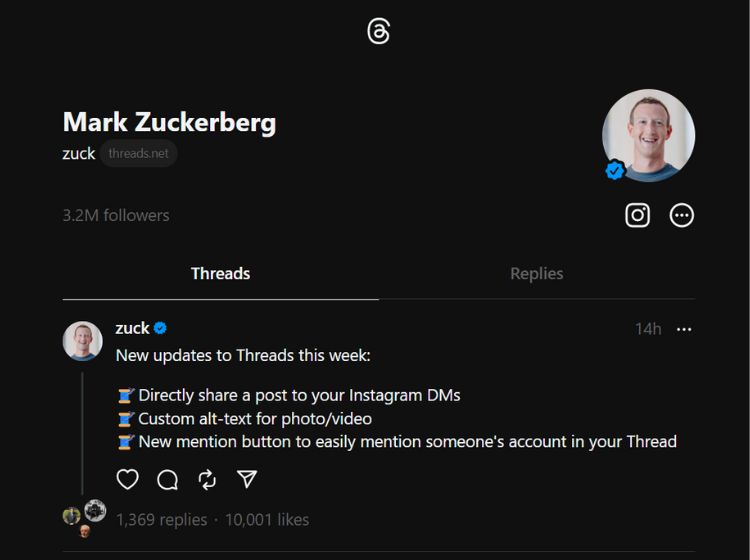 This new update streamlines the sharing process, providing users with a seamless experience between the Threads and Instagram platforms.
Add Alt Text for Images and Videos
Meta has finally addressed a long-awaited request from its users by introducing the ability to add alt text for images and videos. This is primarily an accessibility feature that allows you to edit the automatically generated alt text. Alt text plays a critical role in making content more accessible to visually impaired users. By enabling this feature, Threads demonstrates Meta's commitment to inclusivity and enhancing the overall user experience.
Easily Mention People with the New Mention Button
Another notable addition to Threads is the introduction of a mention button. This feature simplifies the process of mentioning individuals on the platform. By utilizing the mention button, you can effortlessly tag other users and engage in meaningful conversations. This enhances connectivity and communication within the Threads community, making it easier to stay connected with friends and acquaintances.
Verify Your Identity with rel=me Links on Supported Platforms
Adam Mosseri, the Head of Instagram, recently announced the ability to verify user identity on external platforms such as Mastodon. By leveraging rel=me links, users can establish their identity on supported platforms. This move towards interoperability further solidifies Threads' commitment to decentralization and openness. Embracing the capabilities of the fediverse, Meta aims to provide users with a more diverse and inclusive social media experience.
Meta's continuous efforts to introduce new features on Threads reveal their determination to retain existing users and attract new members. These updates serve as retention-driving hooks, addressing concerns raised by users who have recently left the platform. Furthermore, in an exciting development, Mark Zuckerberg recently announced that a web version of Threads will be launching soon, expanding its accessibility and user base.
What are your thoughts on these new capabilities introduced on Threads? Do you find them compelling enough to continue using the platform? We would love to hear your opinions in the comment section below.