Exclusive Look at the Infinix GT 10 Pro Design
After it was revealed that Infinix is looking to make a Nothing Phone (2) lookalike, there had been tremendous excitement around the upcoming Infinix smartphone. The Infinix GT 10 Pro is set to launch soon as a gamer-focused smartphone that will be reflected via its specs and looks. Now, the brand has officially given us the actual look of the device, and by no means it looks "boring." Keep reading to learn more.
This Is How The Infinix GT 10 Pro Will Look Like!
Infinix has shared the official design of its soon-to-launch GT 10 Pro smartphone. Based on what we could gather, the primary highlight of the design will be its transparent photochromatic back panel along with a subtle strip lighting effect within the camera module. Infinix is calling this the cyber mecha design.
The LED strip light will pose multiple functionalities. It will be able to alert you of incoming calls and notifications, and will light up while charging, during startup, and while playing games. The lights will even be able to follow the rhythm of the music you are playing and mute your device as soon as you flip it upside down.
Introducing the Cyber Mecha Design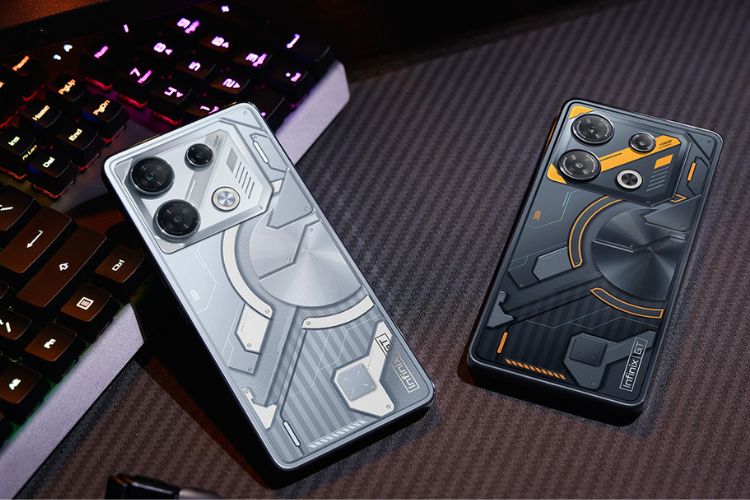 It looks like the device will have a transparent back panel that will sport bright orange highlights in the black version (Cyber Black) and will sport photochromatic features in the white variant (Mirage White) of the device. When exposed to UV light, the back panel of the Mirage White variant turns into Steel Blue and Dusty Pink.
Powerful Camera and High-Performance
Additionally, the smartphone will arrive with a triple rear camera setup with a flat panel in the front. It is clearly indicated at the back that the primary camera will be 108MP. Also, the smartphone will ship with bloatware-free XOS based on Android 13.
Impressive Specifications and Features
In terms of its specifications, it was earlier rumored that the device will feature up to 26GB of RAM. The display can be a 6.82-inch 120Hz AMOLED. Under the hood, it will most likely be powered by the MediaTek Dimensity 8050 chipset and sport as much as 512GB of storage. There can be a 5,000mAh battery with support for up to 240W fast charging.
Final Thoughts
As of now, we do not know how much the device will launch for and when. However, we expect these details to surface soon. With that being said, what do you think of the GT 10 Pro smartphone's design? Do you like it? Are you planning to purchase this device? Do let us know your thoughts in the comments below.