Redesigned Chrome Web Store: A Material Design Facelift
Google Chrome boasts an extensive library of extensions that allows users to add new functionalities to their browsers. These extensions can be found in Google's Chrome Web Store. However, the store's design has remained largely unchanged for many years. In an effort to improve user experience, Google has decided to give the Chrome Web Store a much-needed Material Design facelift. Let's delve into the details of the new design and how to enable it.
Redesigned Chrome Web Store Goes Live in Preview
Google has officially introduced the new Chrome Web Store design in a recent blog post. Users can view the redesigned store by visiting the web store and clicking on the "Try out" banner located at the top left corner of the screen. Alternatively, you can directly access the redesigned Chrome Web Store through chromewebstore.google.com.
The new design introduces a more modern and clean UI experience, significantly improving upon the existing design. The Discover page now features a rotating list of highlighted extensions at the top, followed by the top categories section and recommendations section. As you scroll down, you'll find accessible categories such as AI-powered extensions, Chrome editor's spotlight recommendations, theming recommendations, and more within the Discover feed.
The preview version of the redesigned Chrome Web Store also offers a neater and more functional implementation of the Extensions and Themes tabs. Instead of stacking the two toggles and various sub-categories in a left-side pane, the preview neatly positions them beside the Discover toggle at the top horizontal section of the screen.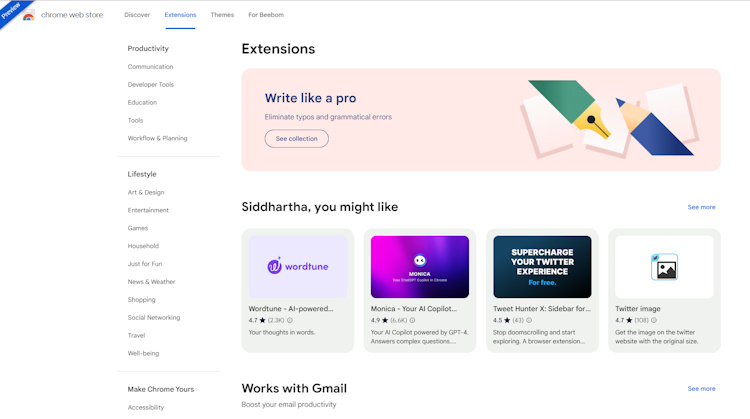 Both the Extensions and Themes tabs now include sub-sectioned recommendations on the left side. Additionally, a top banner showcases featured extensions and themes collections from Chrome, followed by a personalized recommendation section and other useful categories.
The new design not only improves aesthetics but also enhances functionality. The revamped Chrome Web Store simplifies the process of searching for extensions and discovering new ones. The recommendation category ensures that users are provided with relevant extension and theming options. However, the timing for the release of this redesigned Chrome Web Store to all users is yet to be disclosed by Google.
With the Material Design facelift, Google hopes to elevate users' experience on the Chrome Web Store. Stay tuned for updates on this exciting development!