Fire-Boltt Vogue: The New Smartwatch with Body Temperature Monitor
Fire-Boltt, a leading brand in the smartwatch industry, has recently launched its latest offering in India – the Fire-Boltt Vogue. This new smartwatch stands out with its unique feature – a body temperature monitor. Inspired by the popular Apple Watch, the Vogue offers a stylish design combined with advanced functionalities. Let's take a closer look at its specs, features, and more.
Fire-Boltt Vogue: Specs and Features
The Fire-Boltt Vogue boasts a large 2.05-inch square display with a screen resolution of 428×518 pixels. One of its notable features is the Always-on-Display (AOD) functionality, allowing you to check the time and other information at a glance. Additionally, the smartwatch offers a wide range of watch face options to suit your personal style.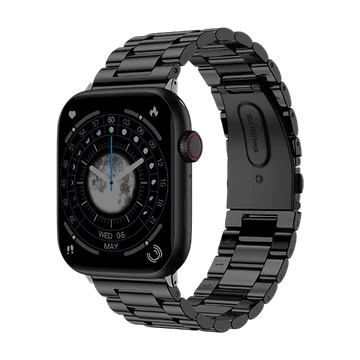 In terms of health monitoring, the Fire-Boltt Vogue offers various essential features. It includes a heart rate monitor, a SpO2 sensor for blood oxygen level monitoring, and a sleep tracker. However, the standout feature is the body temperature sensor, allowing you to keep track of your temperature conveniently. Additionally, the smartwatch offers more than 105 sports modes, letting you monitor and track various physical activities.
Equipped with a 260mAh battery, the Fire-Boltt Vogue ensures long-lasting usage. It takes approximately 150 minutes to fully charge, ensuring quick and convenient charging. Notably, the Vogue supports Bluetooth Calling, allowing you to make calls directly from your smartwatch. You can also access the quick dial pad, call history, and sync your contacts for seamless communication.
Aside from the basic functionalities, the Fire-Boltt Vogue offers a range of other features to enhance your overall experience. It includes a functional crown for easy navigation, an alarm clock to keep you on schedule, a calculator for quick calculations, weather updates, a stopwatch for timing workouts, and remote camera and music controls for added convenience. Moreover, the smartwatch is equipped with voice assistance support via Siri or Google Assistant. Lastly, the Fire-Boltt Vogue boasts an IP68 rating, providing water and dust resistance, ensuring its durability and longevity.
In addition to the Fire-Boltt Vogue, the company has also unveiled the Fire-Boltt Asteroid. This rugged smartwatch features a 1.43-inch 60Hz AMOLED display, Bluetooth Calling, around 123 sports modes, heart rate monitoring, SpO2 monitoring, stress management, and more.
Price and Availability
The Fire-Boltt Vogue is priced at Rs 2,199 and is available for purchase on Amazon and the company's official website starting from August 26. It comes in multiple finishes, including Stainless Steel, Steel Ultra Mesh, Dyna Loop, Aqua Wave, and Magna Loop.
On the other hand, the Fire-Boltt Asteroid is priced at Rs 2,999 and will be available for purchase starting from August 28.
With its impressive features, stylish design, and affordable price, the Fire-Boltt Vogue is set to make its mark in the smartwatch market. Whether you're a fitness enthusiast or simply looking for a reliable companion for your daily activities, the Vogue is worth considering.