Fire-Boltt Solaris: The Stylish and Affordable Smartwatch
Introducing the Fire-Boltt Solaris, the latest addition to the remarkable range of smartwatches by Fire-Boltt. Packed with a plethora of attractive features, including a stunning stainless steel design, an AMOLED display, and an incredibly affordable price, the Solaris is set to revolutionize your smartwatch experience. Let's dive into the details.
Fire-Boltt Solaris: Specs and Features
The Fire-Boltt Solaris boasts a sleek and premium stainless steel design that not only looks elegant but also fits comfortably on your wrist. With its 'chic' rotating crown, navigating through the user interface and accessing various functionalities becomes a breeze.
Featuring a 1.78-inch AMOLED display with a screen resolution of 368×448 pixels, the Solaris offers a visually immersive experience. Choose from over 100 watch face options to match your mood and style. Equipped with a microphone and speaker for Bluetooth Calling, this smartwatch allows you to sync contacts, view call history, and conveniently make calls directly from your wrist.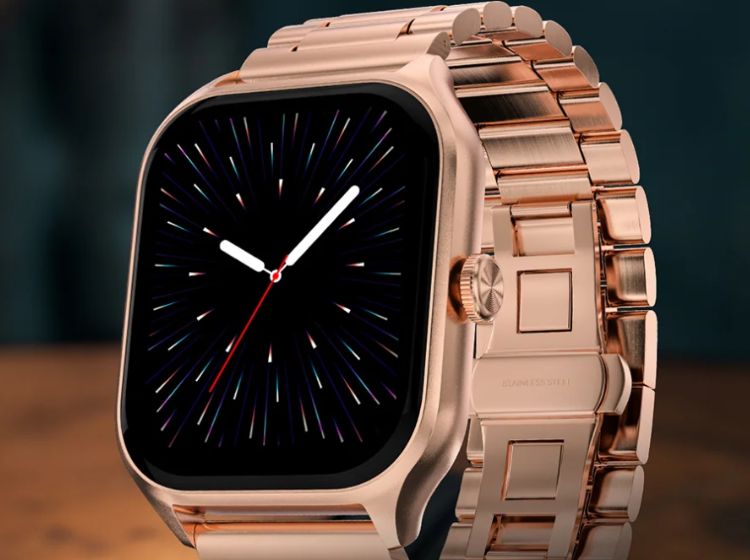 The Fire-Boltt Solaris also comes equipped with a heart rate sensor, a SpO2 sensor, a sleep tracker, and a period tracker, all aimed at helping you monitor and improve your health and fitness. With an impressive selection of 123 sports modes, you can track various activities and work towards achieving your fitness goals. Additionally, the smartwatch includes basic functionalities like step count, calorie tracking, and distance measurement.
With its exceptional battery life, the Solaris can last up to 9 days on a single charge, even with Bluetooth Calling enabled. During standby mode, it can extend battery life to an impressive 25 days. The smartwatch requires approximately 2 hours to fully charge. Stay updated with weather forecasts, control your camera and music playback, receive smart notifications, and set sedentary and water intake reminders. Other handy features include an alarm clock, stopwatch, and timer.
Unlock the power of advanced voice assistance with the Fire-Boltt Solaris. Use Google Assistant or Siri through the smartwatch to effortlessly perform tasks and get instant answers to your queries. The Solaris also boasts an IP67 rating, ensuring water and dust resistance for worry-free usage in various environments.
Price and Availability
Starting from September 16, the Fire-Boltt Solaris will be available for purchase at an attractive price of just Rs 2,499. You can get your hands on this stylish smartwatch from both Amazon and the official Fire-Boltt website. The Solaris competes with other popular options such as the boAt Wave Elevate and the Hammer Ace Ultra. Choose from three stunning color options: Shadow Black, Copper Glow, and Sterling Silver.
Experience the perfect blend of style, functionality, and affordability with the Fire-Boltt Solaris. Stay connected, track your fitness goals, and make a bold statement with this remarkable smartwatch!