Fire-Boltt Launches Phoenix AMOLED Ultra Ace: A Budget-Friendly Smartwatch with Impressive Features
The smartwatch market in India has just received a new addition, and it comes with an impressive set of features. Fire-Boltt has recently launched the Phoenix AMOLED Ultra Ace, a budget-friendly smartwatch that offers an attractive design and much more. Let's dive into the details of this exciting new device.
Phoenix AMOLED Ultra Ace: Specs and Features
The Phoenix AMOLED Ultra Ace is equipped with a 1.43-inch AMOLED screen that boasts a resolution of 466×466 pixels. The round display not only provides a stylish look but also supports the Always-on-Display (AOD) functionality. With 700 nits of brightness, you can expect a vibrant and clear display even in bright outdoor conditions. Additionally, the device offers multiple watch face options, allowing you to customize your smartwatch according to your preferences.
When it comes to design, the Phoenix AMOLED Ultra Ace boasts a metallic build and features a convenient rotating crown. This unique addition enhances the user experience by making it easier to navigate the smartwatch's user interface and access various functionalities. The smartwatch is available in three aesthetically pleasing color options: Glimmer Gold, Silver Mirage, and Midnight Black.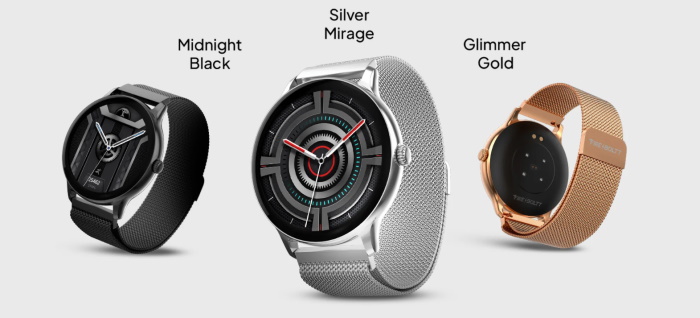 The Fire-Boltt 'Health Suite' is a remarkable feature of the Phoenix AMOLED Ultra Ace. It includes a heart rate sensor, a sleep tracker, a period tracker, and a SpO2 monitor. Additionally, the smartwatch allows you to monitor important health metrics such as calories, steps, and distance. With over 110 sports modes, including running, walking, and cycling, this smartwatch empowers you to stay active and engaged in your fitness routines.
In terms of communication and utility features, the new Fire-Boltt smartwatch is well-equipped. It comes with an inbuilt speaker and a microphone that enable Bluetooth calling. You can easily sync your contacts, access call history, and use the dial pad directly from your smartwatch. Moreover, the Phoenix AMOLED Ultra Ace provides built-in games, weather updates, sedentary and water intake reminders, camera and music controls, an alarm clock, a timer, a stopwatch, and more.
For the tech-savvy users, the Phoenix AMOLED Ultra Ace offers support for both Google Assistant and Siri, enhancing the overall user experience. Additionally, this smartwatch boasts an impressive standby time of up to 20 days, ensuring that you can rely on it for an extended period without the need for frequent recharging.
Price and Availability
The Fire-Boltt Phoenix AMOLED Ultra Ace is priced at Rs 2,499 and is available for purchase on Amazon and the official Fire-Boltt website. It competes with other popular options in the market like the boAt Wave Elevate and the NoiseFit Twist. With its attractive design, feature-rich specifications, and budget-friendly price tag, the Phoenix AMOLED Ultra Ace is certainly a smartwatch worth considering for users looking to enhance their wearable technology experience.