Excitel Introduces New Broadband Plans with Big Screen Bonanza Offer
New Excitel Plans: Details
Excitel has recently launched two exciting broadband plans, the Big Screen and the Mini Home Theatre plans, as part of their Big Screen Bonanza offer. These plans not only provide high-speed data but also offer additional perks such as a smart TV and an HD projector. Let's take a closer look at what these plans have to offer:
Big Screen Plan
The Big Screen plan from Excitel includes 400Mbps high-speed unlimited data, along with access to 16 popular OTT apps like Disney+ Hotstar, Sony Liv, Zee5, AltBalaji, and Discovery Channel+. In addition, this plan comes with a complimentary 32-inch frameless Wybor smart TV (WHS-C9). Priced at Rs 1,299 per month, the Big Screen plan offers an all-in-one home entertainment solution.
Mini Home Theatre Plan
Excitel's Mini Home Theatre plan offers the same 400Mbps high-speed unlimited data and access to 16 OTT apps. However, instead of a smart TV, this plan provides a Full HD projector (K9 Pro-Max Automatic by E-Gate). With features like autofocus, dual Wi-Fi, and the ability to project up to 200 inches, this plan is perfect for creating a cinematic experience at home. The Mini Home Theatre plan is available for Rs 1,499 per month.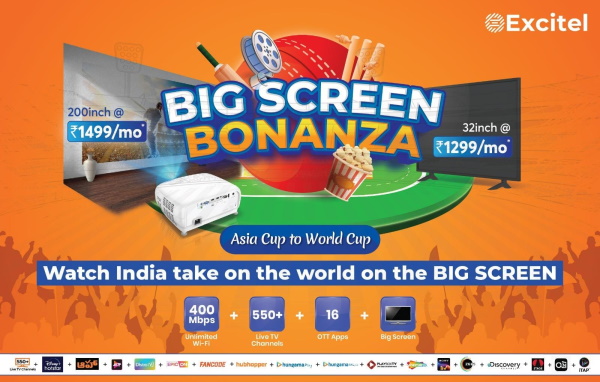 Excitel's Chief Operating Officer, Varun Pasricha, expressed his excitement about the launch, stating, "What started as an innovative concept to bring affordable internet plans with exceptional entertainment options has grown into something much bigger. Our decision to expand the 'Smart TV with Smart Wi-Fi Plan' nationwide as the Big Screen Plan aims to provide users with uninterrupted high-speed home entertainment, including free OTT subscriptions, TV sets, and projectors."
In addition to these new plans, Excitel also offers the Cable Cutter plan, which provides speeds of up to 400 Mbps and a selection of 12 premium OTT channels, along with access to over 500 live channels. This plan starts at just Rs 592 per month.
The Smart TV plan, initially introduced as a pilot plan in April 2023 and limited to Delhi, is now available in over 35 cities across India. Excitel plans to expand its coverage to more cities in the near future. If you're looking for a comprehensive broadband plan with exciting entertainment offerings, the new Big Screen Bonanza plans from Excitel are worth considering.