New Excitel Plan: High-Speed Internet and OTT Platforms Available
Benefits of the New Excitel Plan
Excitel, a leading broadband service provider in India, has recently introduced an exciting new plan called the "Cable-Cutter" plan. This plan offers not only high-speed internet but also access to various popular OTT (Over-The-Top) platforms. With a starting price of just Rs 592 per month, this plan is definitely worth considering for anyone looking for a great internet and entertainment package.
High-Speed Internet and Extensive OTT App Access
The new Excitel plan provides users with a blazing-fast internet speed of 400Mbps. This means you can enjoy seamless browsing, streaming, gaming, and downloading experiences. Additionally, this plan offers access to 12 highly popular OTT apps such as Disney+ Hotstar, ZEE5, SonyLiv, and Hungama Play, among others. These apps provide a wide range of entertainment options, including movies, TV shows, web series, and more.
Over 550 Live Channels
Not only does the Excitel plan provide high-speed internet and access to OTT platforms, but it also offers over 550 live channels. This means you can enjoy your favorite TV shows, news, sports, and more, all in one place.
Flexible Pricing Options
The Excitel "Cable-Cutter" plan is available at different pricing options to suit your needs. If you choose to buy the plan for 12 months in one go, it will cost you Rs 592 per month. Alternatively, you can opt for the 3-month plan, which is priced at Rs 847 per month. While the pricing for the 6-month plan has not been disclosed yet, it is expected to provide even more flexibility to the users.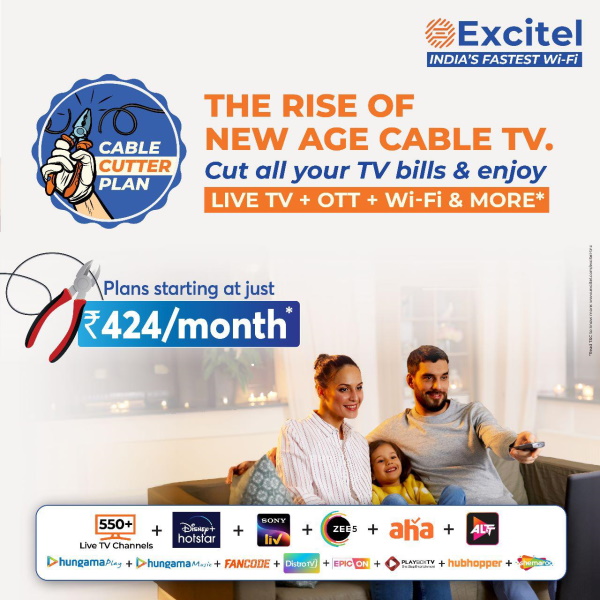 Excitel's Co-founder and CEO, Vivek Raina, expressed his enthusiasm about the Cable Cutter Plan, stating, "We are thrilled to launch our Cable Cutter Plan, a true game-changer in the home broadband and Cable TV arena. The ever-increasing popularity of OTT platforms and the soaring costs of traditional cable TV services have driven us to create a comprehensive solution for our customers. Our Cable Cutter Plan offers a seamless blend of live TV, OTT content, and lightning-fast internet speeds, all bundled together at an affordable price point. It caters to the ever-evolving entertainment needs of consumers, providing convenience, variety, and affordability in a single package. We believe this will empower users to regain control of their entertainment choices and enjoy an unparalleled viewing experience."
In addition to the Cable-Cutter plan, Excitel also offers other impressive plans such as the Kickstarter plan with 200Mbps data, starting at Rs 424 per month, and the Beast plan with 300Mbps speeds and a starting price of Rs 474 per month. These plans provide users with more choices and options to meet their specific internet and entertainment requirements.
If you are seeking a reliable and cost-effective broadband plan that offers high-speed internet, access to popular OTT platforms, and a wide range of live channels, then the new Excitel Cable-Cutter plan is definitely worth considering. It combines convenience, variety, and affordability, providing users with a comprehensive solution for their internet and entertainment needs.
What are your thoughts on the new Excitel broadband plan? Share your opinions in the comments section below and let us know if you will be opting for this exciting plan!