Disney+ Hotstar Password Sharing Crackdown: What You Need to Know
By now, most of you would be aware of the password-sharing crackdown from Netflix that first came to light last year. This became a reality on July 20, 2023, when Netflix started sending out official emails to users in India and more regions. And now it seems like Disney+ Hotstar is also looking to follow in the footsteps of Netflix. Keep reading to know more.
Disney+ Hotstar Password Crackdown Incoming!
In its latest report, Reuters states that Disney+ Hotstar, one of the popular streaming platforms in India, is looking to enforce a new password-sharing policy in the country. This new policy will limit its premium users to only four devices.
We checked for this and it looks like the streaming platform has already started enforcing this policy in India. The Premium subscription is now restricted to only 4 devices as opposed to the earlier limit of 10 devices. This change can be seen on the OTT's website. Although, there's no official word from Disney+ Hotstar yet.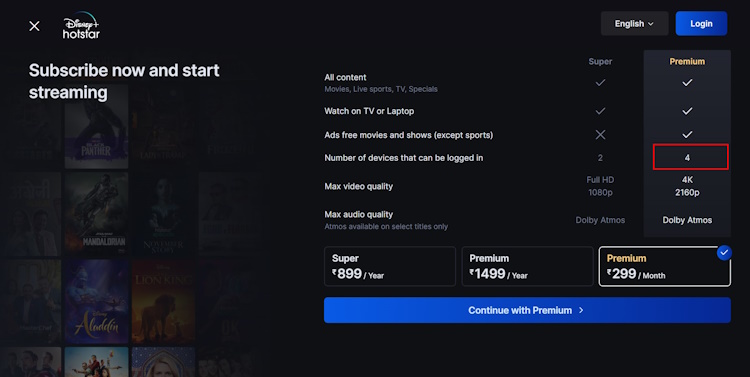 That said, a source close to Reuters revealed that existing Premium users can still log into 10 devices and this implementation will be enforced upon them by the end of this year. This move has been brought forth with the hope that customers will purchase their individual accounts instead of relying on others. It remains to be seen if this limit applies to other Disney+ Hotstar plans.
For those who don't know, Disney+ Hotstar offers a variety of subscription plans in India. There is a Super Plan priced at Rs 899 per year and a Premium Plan priced at Rs 1,499 per year or Rs 299 per month. Additionally, there is an exclusive Mobile Plan for Android and iOS users, allowing them to pay either Rs 149 for 3 months or Rs 499 for a year. With the Premium Plan, subscribers gain access to the entire library of Disney+ Hotstar content, enjoy the ability to watch on both laptops and smart TVs, and stream in 4K 2080p with Dolby Atmos support. The Premium Plan also provides an ad-free viewing experience, except for sports content.
In conclusion, Disney+ Hotstar is joining the bandwagon of password-sharing crackdowns, following the footsteps of Netflix. This new policy will limit premium users to only 4 devices, encouraging users to have individual accounts. While the implementation has already begun for new users, existing Premium users can still log into 10 devices until the end of this year. Whether this policy applies to other plans remains uncertain. The subscription plans offered by Disney+ Hotstar cater to different needs and preferences. Let us know your thoughts on this development and whether you will prefer Disney+ Hotstar's Premium Plan moving forward. Share your opinions in the comments section below.