Diablo 4 Season of Blood: Exciting New Content Revealed
The highly anticipated Diablo 4 Season of Blood has been officially announced at Gamescom 2023. As a beloved action RPG series, Diablo has always captured the hearts of gamers worldwide. After a lukewarm reception to the first season, the developers are determined to make the new season an exhilarating experience. Titled Season of Blood, this second official season brings a host of new content that is sure to delight fans. Let's take a closer look at what Diablo 4 Season of Blood has in store for players.
Diablo 4's Season of Blood Brings New Content
The focus of Diablo 4's Season of Blood is on the invasion of vampires in the world of Sanctuary. This time, an enigmatic figure has unleashed these undead bloodsuckers, putting fate itself at stake. As a player, it is crucial to learn how to hunt these vampires to save the world.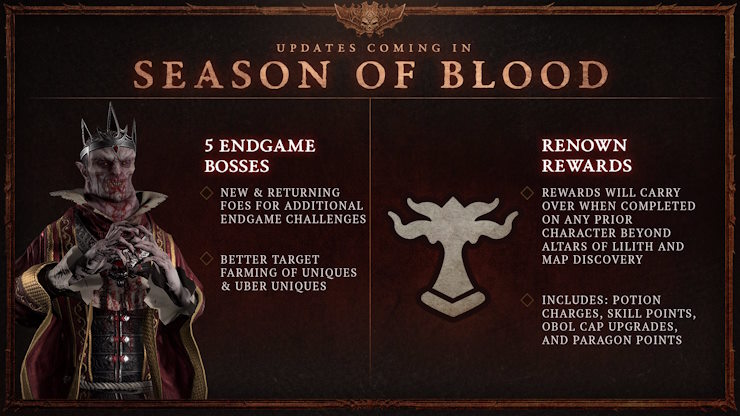 One of the most exciting additions in Season of Blood is the introduction of a captivating questline featuring a new character portrayed by acclaimed actor Gemma Chan. In the trailer, she appears as a skilled hunter who arrives in Sanctuary to tackle the vampire menace. Players are called upon to assist her in this perilous mission. Additionally, the second season of Diablo 4 introduces powerful Vampiric Powers for players to wield, although specific details about these powers remain undisclosed.
Beyond the intricacies of the plot and the introduction of new seasonal powers, Diablo 4 Season of Blood presents five challenging endgame bosses. These bosses include a mix of both new and familiar foes, providing an exciting challenge for players. The update also brings improvements to the target farming system, enhancing the chances of obtaining unique and uber-unique items. Moreover, players will now experience better reward progression, allowing them to carry over earned rewards from previous characters.
In response to player feedback, the developers have incorporated highly requested quality-of-life updates in Season of Blood. One such update is the introduction of a new inventory management system exclusively for Gems. This feature resolves the long-standing issue of Gems occupying valuable inventory space, streamlining gameplay and enhancing convenience for all players.
Additionally, key elements such as Paragon Points, Skill Points, Potion Charges, and Obol capacity upgrades will now carry over into new seasons when accomplished with an Eternal or previous Seasonal Realm character. Furthermore, the functionality of status effects has been revamped, resulting in exciting gameplay changes.
As the release date of Season of Blood approaches, Blizzard promises to reveal more exciting details about the upcoming season. Mark your calendars for October 17, 2023, when Diablo 4 fans can finally embark on their thrilling journey into the Season of Blood.