Boruto: Two Blue Vortex Manga – The Highly-Anticipated Time-Skip Revealed!
After the immense success of Naruto, its sequel, Boruto: Naruto Next Generations, has captured the hearts of fans worldwide. This beloved shonen anime follows the lives of the children of our beloved shinobi, and while the anime has had its fair share of filler episodes, the manga has managed to gain a dedicated fanbase. With the serialization on a hiatus since Chapter 80 published on April 20, 2023, fans have eagerly awaited the resumption of the Boruto manga series.
Boruto Gets a Time Skip; Introducing Two Blue Vortex
The Boruto manga series is now set to follow in the footsteps of its predecessor. Just as Naruto ended with a bang and was followed by Naruto Shippuden, the first part of Boruto is officially concluding with around 80 chapters. The exciting news is that the second part of the manga, titled Boruto: Two Blue Vortex, is set to begin. Created by Masashi Kishimoto and Mikio Ikemoto, this thrilling new installment will make its debut in V-Jump issue #10, which is scheduled for release on August 21, 2023.
In preparation for this monumental shift, the story will include a significant time-skip. Similar to the classic Naruto storyline, where our protagonist embarked on intense training with Jiraiya, Boruto will also undergo concentrated training. Sarada Uchiha, in desperate need to save Boruto, will unlock her Mangekyo Sharingan and seek her father's assistance. This captivating moment sets the stage for the time-skip and promises exciting new developments.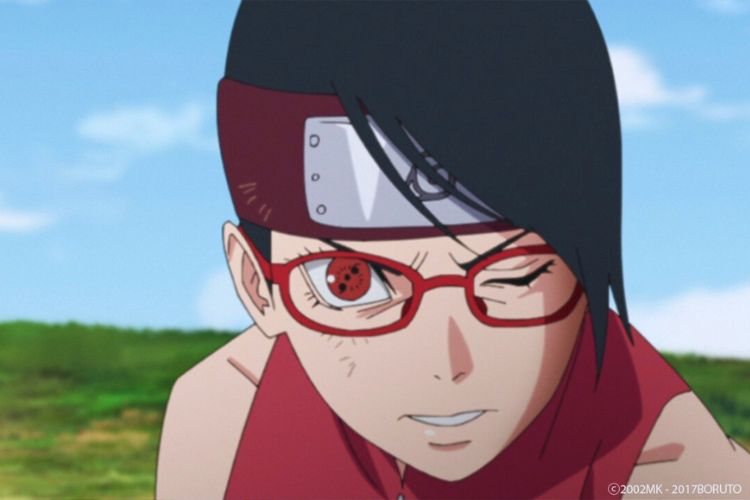 Thanks to a leaked image, we have received a preview of the highly-anticipated new chapter of Boruto: Two Blue Vortex. The leaked image showcases a glimpse of Sarada Uchiha's character design after the time-skip. In this image, she is seen sporting an entirely new costume, complete with the iconic Uchiha clan earrings and choker necklace. Additionally, Sarada debuts a refreshing new haircut, which adds to the excitement surrounding the upcoming manga chapters.
With these thrilling updates, fans are eagerly awaiting the release of the Boruto manga. The introduction of the time-skip promises an exciting turn of events and an opportunity for the series to regain its momentum, both in the manga and the anime adaptation. As we eagerly anticipate the return of both the manga and anime, we can't help but wonder what lies in store for our favorite characters, particularly Boruto Uzumaki of the Uzumaki clan. It's a challenging time for Boruto and his friends, and we can't wait to see how they navigate these new circumstances.
Stay tuned for further updates regarding the Boruto anime and manga. In the meantime, share your thoughts on this exciting news in the comments section below. Get ready for the time-skip, because Boruto: Two Blue Vortex is primed to take us on an unforgettable journey!