boAt Wave Elevate: The Affordable Apple Watch Ultra Lookalike with Impressive Features
boAt Wave Elevate: Specs and Features
The boAt Wave Elevate is a new addition to the Wave series of smartwatches by boAt. Priced under Rs 3,000, this smartwatch offers a range of features that are comparable to the high-end Apple Watch Ultra. Let's take a look at what the boAt Wave Elevate has to offer.
Stunning Display with Customizable Watch Faces
The Wave Elevate features a large 1.96-inch HD display with thin bezels, providing an immersive viewing experience. With a brightness of 500 nits, the display offers excellent visibility even in bright sunlight. Additionally, the smartwatch offers various customizable watch faces, allowing users to personalize their watch according to their style and preferences. The watch also boasts a sleek metallic build and ocean band straps, giving it a premium look and feel. The functional crown on the side of the watch enables easy access to the menu, as well as the ability to change watch faces and settings.
Seamless Bluetooth Calling Experience
The boAt Wave Elevate ensures that you can stay connected even when your phone is not within reach. The smartwatch supports Bluetooth Calling, allowing you to make and receive calls directly from your wrist. It is equipped with an inbuilt speaker and microphone, enabling clear audio during calls. The watch also allows you to save up to 20 phone numbers and has a dial pad for quick and convenient calling.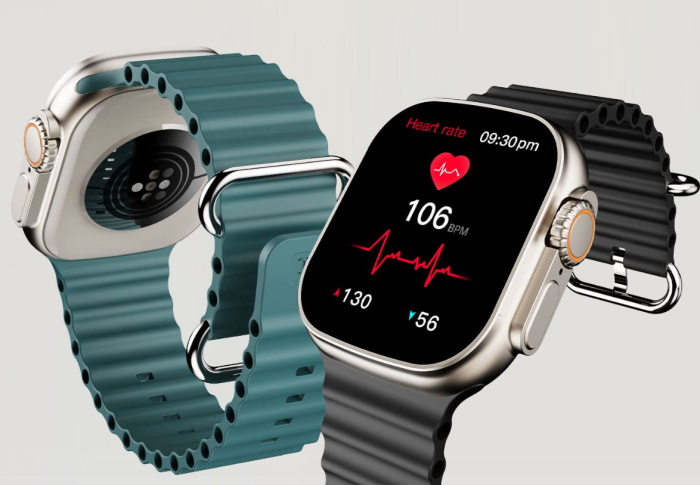 Comprehensive Health and Fitness Tracking
The boAt Wave Elevate is not just a smartwatch, but also a fitness companion. It offers advanced health and fitness tracking features, including heart rate monitoring, SpO2 monitoring, and sleep tracking. With these features, you can keep track of your heart health, blood oxygen levels, and sleep patterns for a better understanding of your overall well-being. The smartwatch also tracks steps, distance, and calories burned, making it easier for you to achieve your fitness goals. Additionally, the Wave Elevate comes with breathing exercises to help you relax and manage stress. It offers more than 50 sports modes to record various physical activities, and all the data can be conveniently monitored through the compatible app. Moreover, the smartwatch is compatible with popular health and fitness apps such as Apple Health and Google Fit.
Long Battery Life and Voice Assistance
With the boAt Wave Elevate, you don't have to worry about frequent charging. The smartwatch boasts a remarkable battery life of up to 15 days. Even with heavy usage, the watch can last for up to 5 days on a single charge. When Bluetooth Calling is enabled, the battery life reduces to 2 days, which is still impressive. The Wave Elevate supports voice assistance and allows you to access Google Assistant or Siri directly from your wrist. This feature enables hands-free operation and provides convenience for various tasks. Additionally, the smartwatch offers functionalities like weather updates, alarm clock, stopwatch, remote camera/music controls, smart notifications, Do Not Disturb mode, Find My Phone feature, and more. It also has an IP67 rating for water and dust resistance, ensuring durability for everyday wear.
Price and Availability
The boAt Wave Elevate is priced at Rs 2,299 and is available for purchase on Amazon starting from September 6. The smartwatch comes in orange, grey, green, and black color variants, offering options to suit different styles and preferences.
Overall, the boAt Wave Elevate is a feature-packed, affordable smartwatch that delivers an impressive range of functionalities. It combines style, performance, and affordability, making it a great choice for anyone in need of a reliable smartwatch without breaking the bank.