BenQ SW272U Pro Monitor: The Ultimate Display for Professional Photographers and Videographers
As a professional photographer or videographer, having the right monitor is essential for achieving accurate color reproduction and precise image editing. BenQ understands this need and has recently launched the all-new BenQ SW272U monitor in India, specifically designed for professionals like you. With its premium specifications and innovative features, this monitor is set to revolutionize the way you work. Let's dive into the details of this remarkable display.
BenQ SW272U Pro Monitor: Specs and Features
The BenQ SW272U boasts a 27-inch 4K IPS UHD 10-bit Anti-Glare and Low Reflection display. This means you'll experience stunning visual clarity and lifelike colors with every image or video you view. The Advanced Reflectionless Technology (A.R.T.) along with HDR10 and HLG support ensures that you get rich and vibrant visuals, even in challenging lighting conditions.
In terms of color accuracy, the SW272U leaves no room for compromise. With a Delta E ≤ 1.5 and BenQ ICC sync technology, this monitor delivers precise color reproduction that will satisfy even the most discerning professional. The display covers 100% sRGB wide color gamut, providing you with a wider range of vibrant colors to enhance your creative work.
Not only does the SW272U excel in performance, but it also offers incredible flexibility. The monitor comes with a height-adjustable mount that allows you to find the perfect viewing angle and switch effortlessly between landscape and vertical orientation. Picture-in-Picture and Picture-before-Picture modes enable you to multitask efficiently by working on two different windows simultaneously.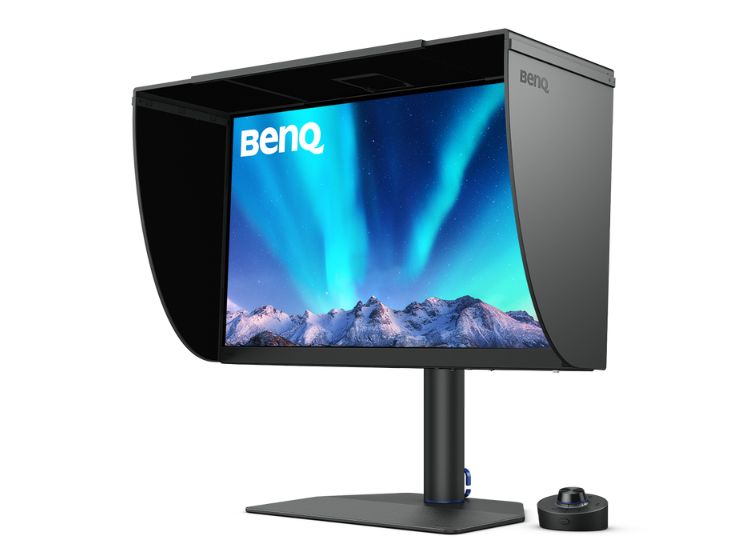 Another standout feature of the SW272U is its certifications from industry-leading organizations. It boasts Calmac, Pantone, and Pantone SkinTone certifications, ensuring accurate and reliable color performance. To add even more value, BenQ has partnered with Pantone Connect to offer a year of Pantone Connect Subscription for free to users who own a PD/SW product, valid until September 30, 2023. This subscription gives you access to Pantone Color Libraries, color values, and navigation tools to further enhance your creative workflow.
When it comes to connectivity, the SW272U offers a wide range of options. It features OSD, Type-C, and I/O ports, as well as a dedicated card reader. These ports make it easy to transfer files from your camera directly to the monitor, saving you time and eliminating the need for additional devices. Additionally, the monitor supports dual-screen setup, allowing you to connect your compatible PC or laptop for a seamless and expansive workspace. With a maximum power delivery of 90W and the dedicated Hotkey Puck G3, managing color accuracy has never been easier.
Price and Availability
The BenQ SW272U Pro Monitor is available in India at an introductory price of Rs 1,39,990. You can purchase this exceptional monitor through Amazon and BenQ-authorized retailers. To make the purchase even more convenient, there is a no-cost EMI option available for up to one year.
If you're ready to elevate your photography and videography workflow to new heights, the BenQ SW272U Pro Monitor is the perfect choice. Its top-of-the-line specifications, outstanding color accuracy, and innovative features make it a must-have for professionals who demand the best. Don't miss out on this opportunity to enhance your creative journey – get the BenQ SW272U today!
Buy BenQ SW272U Monitor via Amazon