Asus Marshmallow Series: Innovative Peripherals for Enhanced Computing
Asus, a leading technology company, has recently unveiled its latest line of peripherals – the Marshmallow series. This collection includes the KW100 keyboard and the MD100 mouse, which offer a range of impressive features and functionalities. Designed for compactness and portability, these peripherals are set to revolutionize the way we interact with our computers. In this article, we will explore the specifications and features of these innovative Asus Marshmallow products.
Asus Marshmallow Keyboard KW100: Compactness Redefined
When it comes to a wireless keyboard, the Asus Marshmallow KW100 sets a new standard for compactness. This portable keyboard boasts an incredibly small size without compromising on comfort and versatility. One of its standout features is the specially-designed switches that reduce typing noise by up to 90% compared to standard switches. These switches have a remarkable lifespan of 10 million key presses, ensuring a consistent and reliable performance.
The KW100 keyboard is compatible with various platforms, including Windows, ChromeOS, macOS, and iOS. Although not explicitly mentioned, it is highly likely that this keyboard can also connect to Android devices via Bluetooth. Moreover, it supports BLE 5.0 technology for optimal connectivity. Another notable feature is the ability to connect to up to 3 devices simultaneously, providing seamless multitasking capabilities.
In terms of aesthetics, the Marshmallow Keyboard KW100 stands out with its visually appealing designs. It comes in two delightful color options – Oat Milk and Green Tea Latte. The minimalistic and elegant design of this keyboard sets it apart from the competition. Additionally, its battery life can last up to an impressive 2 years, depending on usage.
Asus Marshmallow Mouse MD100: Sleek and Versatile
The Asus Marshmallow MD100 is a highly portable wireless mouse weighing just 56g (without the battery). This ambidextrous mouse is designed to cater to both left-handed and right-handed users, ensuring maximum comfort and usability. It features a magnetic top cover, allowing users to easily personalize their mouse with interchangeable colors.
Like the keyboard, the Marshmallow Mouse is available in Oat Milk and Green Tea colors. The magnetic covers for both colors come included with the mouse. The cover is coated with an anti-microbial layer, providing added protection and cleanliness. Moreover, this mouse is claimed to have three times the lifespan of a regular office mouse.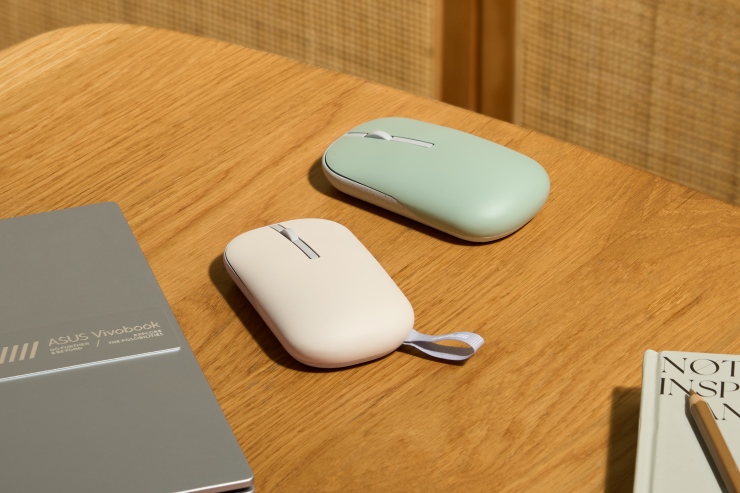 This compact mouse measures under 3cm tall, making it sleek and highly portable. The clicks on the Marsh