AMD Radeon RX 7800 XT/ 7700 XT Launch Expected Next Week at Gamescom 2023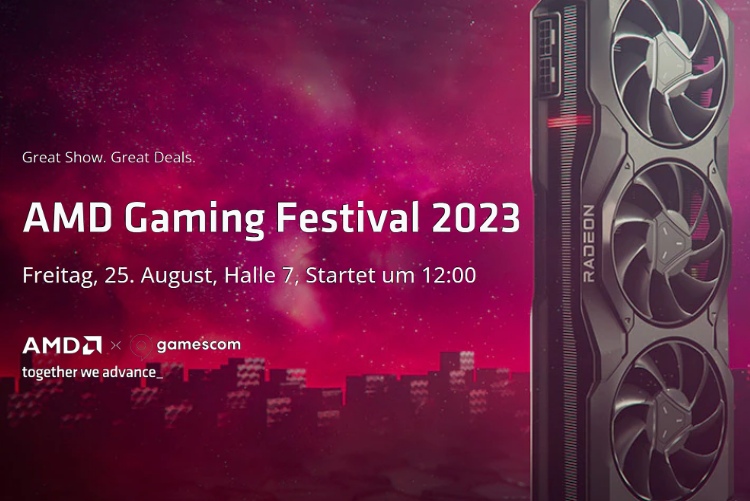 Introduction
AMD's RDNA 3 lineup of Radeon graphics cards has been missing a mid-range GPU option, leaving gamers eagerly awaiting a more affordable offering. However, the wait might be coming to an end as AMD is set to announce new Radeon graphics cards and potentially FSR 3 at Gamescom 2023. This annual gaming trade fair in Cologne, Germany is a hotspot for showcasing the latest technologies in the hardware industry. In this article, we will explore what AMD has in store for us at Gamescom 2023.
AMD Radeon RX 7800 XT/ 7700 XT Launch Expected Next Week
Scott Herkelman, the Senior VP & GM of AMD's Graphics Business, recently confirmed on Twitter that the AMD Radeon team will hold a press conference at Gamescom 2023 to unveil their "next major product announcements." The event is scheduled to take place on August 25th, 2023 at 12:00 PM local time in Germany. This announcement aligns with AMD CEO Lisa Su's previous statement that certain RDNA 3 GPUs would be released before the end of 2023.
Please join the @AMDRadeon team at Gamescom next week for our next major product announcements! If you can make it to Germany and will be one of the couple hundred of thousand visitors attending one of the biggest gaming events, I hope to talk to you in person!…

— Scott Herkelman (@sherkelman) August 16, 2023
At present, the RX 7000 series GPU lineup consists of the RX 7600 as the entry-level option competing against Nvidia's RTX 4060, and the RX 7900 XT & XTX as the high-end offerings to rival Nvidia's RTX 4080. Nvidia has already launched the RTX 4070 Ti, RTX 4070, and RTX 4060 Ti graphics cards in the mid-range and high-end GPU market. Therefore, AMD's upcoming GPU releases will help them complete their RDNA 3 lineup to cater to a wider audience of gamers.
While it hasn't been officially confirmed which GPUs will be unveiled at the event, it is highly likely that AMD will present the following graphics cards:
RX 7700 XT
RX 7800 XT
RX 7600 XT
Possibly others (like non-XT variants)
AMD Radeon RX 7700/ RX 7800 Leaks & Rumors
According to a leak by hardware analyst Jon Peddie, who previously reported that AMD would introduce new RX 7000 series GPUs by the end of August, it is expected that at least two, and possibly five, new GPUs will be announced at Gamescom 2023. This aligns with the confirmation of AMD's presence at the event by Scott Herkelman. Let's take a look at the speculated performance numbers for the rumored RX 7700 and RX 7800 GPUs: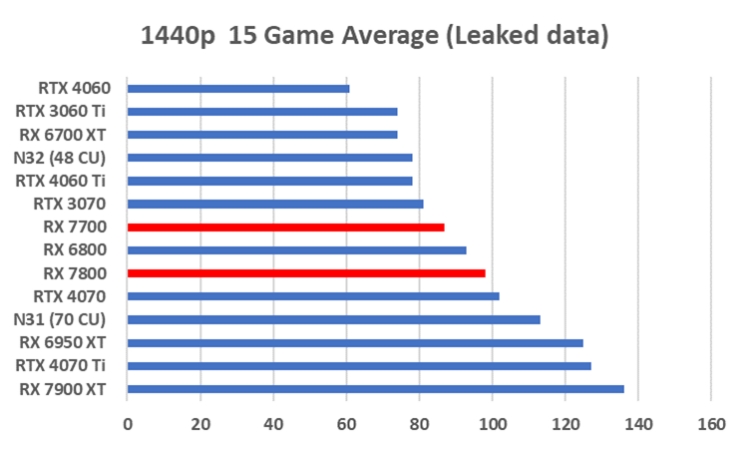 These benchmark numbers are speculative and not based on actual testing. However, they provide an estimation of the performance potential of the RX 7700 and RX 7800 GPUs. The RX 7800 appears to be positioned slightly below Nvidia's RTX 4070, while the RX 7700 sits just below the RX 6800. With competitive pricing, AMD could attract a significant number of gamers interested in these new GPUs.
Are you excited about AMD's upcoming RX 7000 Series GPUs? Which GPU would you like to see being launched? Let us know in the comments below. And for assistance in choosing your next GPU, check out our guide on the best graphics cards for gaming.