AMD Ryzen 9 7945HX3D: The Ultimate Flagship Gaming Processor
AMD has become a popular choice among consumers seeking a high-performance desktop chip suitable for gaming and work purposes. The introduction of the Ryzen 7000 3D V-Cache CPUs brought significant performance advantages to many games, surpassing Intel in less intensive games. Now, AMD has taken it a step further with the release of the Ryzen 9 7945HX3D, a new CPU powered by the revolutionary 3D V-Cache technology.
Boosted Performance with AMD's Ryzen 9 7945HX3D CPU
The AMD Ryzen 9 7945HX3D CPU boasts an impressive 16 cores and 32 threads, matching the specifications of its predecessor, the Ryzen 9 7945HX, which was part of the Ryzen 7000 Mobile CPU Lineup. However, the L3 Cache has been upgraded from 64MB to a staggering 144MB with the addition of 3D V-Cache technology. Notably, AMD has reduced the maximum operating temperature of this CPU to 89°C, significantly lower than the normal CPU's 100°C limit.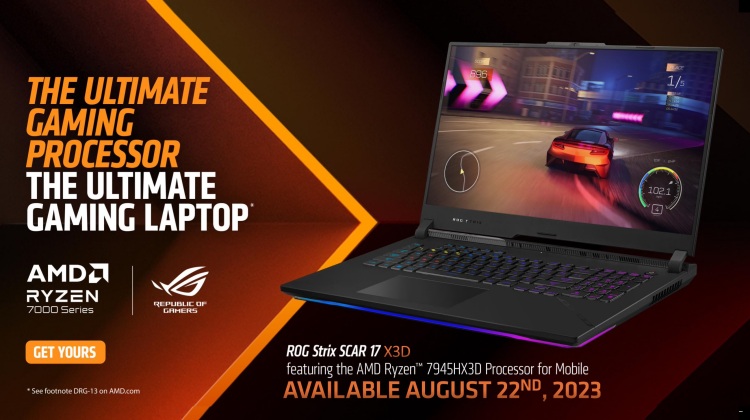 These enhancements result in a remarkable boost to gaming performance of over 15% compared to the non-3D V-Cache variant, the R9 7945HX CPU. While the base clock speed has been slightly lowered by 200MHz, maintaining a boost clock of 5.4GHz ensures a powerful gaming experience. Additionally, the new CPU achieves higher gaming performance at lower power levels, showcasing an 11% improvement when limited to 70W and an impressive 23% increase at 40W. To validate these figures, AMD conducted tests by capping both the Ryzen 9 7945HX3D and the non-3D V-Cache variant at the respective power limits.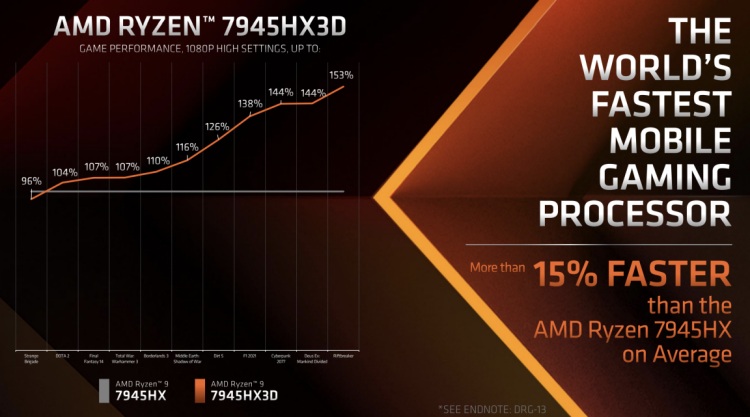 The above performance comparison results were obtained from testing a selection of titles. Considering the enhanced 3D V-Cache, gaming performance is set to improve across a wide range of titles. In particularly demanding games like Cyberpunk 2077, users can expect to experience a remarkable 44% performance uplift, while the game Riftbreaker showcased an impressive 53% jump. Esports titles such as Valorant and Counter-Strike 2, which heavily rely on CPU performance, are also anticipated to receive a significant boost in FPS.
Considering these advancements, the Ryzen 9 7945HX3D may just be the fastest gaming laptop CPU currently available worldwide. Further testing will be conducted to verify its performance, but it has already garnered attention as an impressive option for gamers.
The AMD CPU is slated to be included in the upcoming ASUS ROG Strix Scar 17 gaming laptop, which is scheduled for release on August 22nd, 2023. It's worth noting that this particular CPU model is exclusive to ASUS gaming laptops for now, due to the partnership between AMD and ASUS.
Pricing information for the new Scar 17 gaming laptop featuring the Ryzen 9 7945HX3D CPU has yet to be disclosed by AMD or ASUS. More details are expected to be revealed soon. Are you considering purchasing the upcoming ROG Strix Scar 18 laptop with the powerful Ryzen 9 7945HX3D CPU? Share your thoughts in the comments below.