AMD Radeon RX 7600 XT Graphics Card: Leaked Details, Price, and Release Date
The AMD Radeon RX 7600 XT is an upcoming graphics card from AMD that has recently been leaked. This new addition to the RDNA 3 graphics card lineup is expected to offer impressive performance and specifications. In this article, we will dive into the leaked details of the RX 7600 XT, including its specifications, price, and expected release date.
Radeon RX 7600 XT Graphics Card Leaked
The RX 7600 XT is an unannounced graphics card from AMD that has appeared in an EEC listing. The listing indicates that the RX 7600 XT will come in two variants, with VRAM capacities of either 10GB or 12GB. The leaked information suggests that AMD is planning to release both variants, but the final decision on VRAM capacity is yet to be confirmed.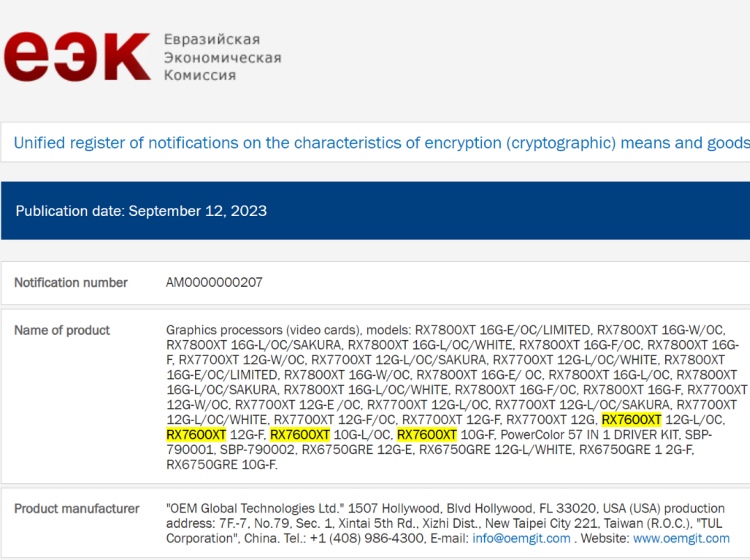 RX 7600 XT Leaked
The base model of the RX 7600 already exists and features 8GB GDDR6 memory. However, the new 7600 XT variant is expected to offer higher VRAM capacity, making it a strong competitor to the NVIDIA RTX 4060 Ti 8GB graphics card.
AMD Radeon RX 7600 XT: Price & Release Date
With the release of the Radeon RX 7600 XT, AMD aims to bridge the price gap between the RX 7600 and the RX 7700 XT. The RX 7600 XT is expected to be priced around $300-$400, positioning it within the AMD RX 7000 Series graphics card lineup.
As for the release date, AMD has not provided any official information. However, speculations suggest that the RX 7600 XT could come out by the end of 2023 or in the first quarter of 2024. When released, the RX 7600 XT will serve as the successor to the AMD RX 6600 XT graphics card.
Upcoming 7600 XT graphics card will become a successor of the 6600 XT
The Radeon RX 7600 XT will be the most affordable graphics card in its class to offer over 8GB VRAM capacity. This feature will make it an attractive option for those looking to upgrade their GPU. If you're considering upgrading, you may want to consider the RTX 4060 Ti as well.
What are your thoughts on the upcoming Radeon 7600 XT graphics card? Are you a fan of Nvidia or AMD graphics cards for your PC? Share your preferences in the comments below.
Disclaimer: The information in this article is based on leaked details and speculations. Official announcements from AMD are yet to confirm the details mentioned.