AMD Phoenix 2 Zen 4C APU: Details and Specifications
AMD's new Phoenix 2 APU architecture, featuring Zen 4C cores, has recently been revealed. In this article, we'll delve into the details and specifications of the AMD Ryzen Phoenix 2 Hybrid APU, which brings enhanced efficiency through Zen 4 cores. Here's everything you need to know.
AMD Phoenix 2 Zen 4C APU Pictured
An image of AMD's hybrid APU architecture with Zen 4C cores was recently shared on X (formerly Twitter). The image offers a clear view of various elements of the AMD Phoenix 2 APU, including its Zen 4C cores.
Unlike traditional CPUs, APUs are designed to provide sufficient power in both the CPU and GPU departments on a single chip. To understand what an APU is, you can refer to our dedicated explainer here. Below is the die shot of the Phoenix 2 APU shared by HXL on Twitter.
According to HXL, the top-left corner of the die highlights the Zen 4C cores, which are designed specifically for improved power consumption efficiency. The leaker also mentioned that these Zen 4C cores will feature multithreading, resulting in a total of 12 threads for the Phoenix 2 APU.
David Huang, a hardware enthusiast, conducted a deep dive into Phoenix 2. He identified the different Zen 4 cores and their respective locations. The die shot reveals the GPU's workgroup processors (RDNA 3 WGP), as well as the 'Zen 4 Classic' (Zen 4) and 'Zen 4 Dense' (Zen 4C) cores. The L3 cache is also highlighted in the diagram.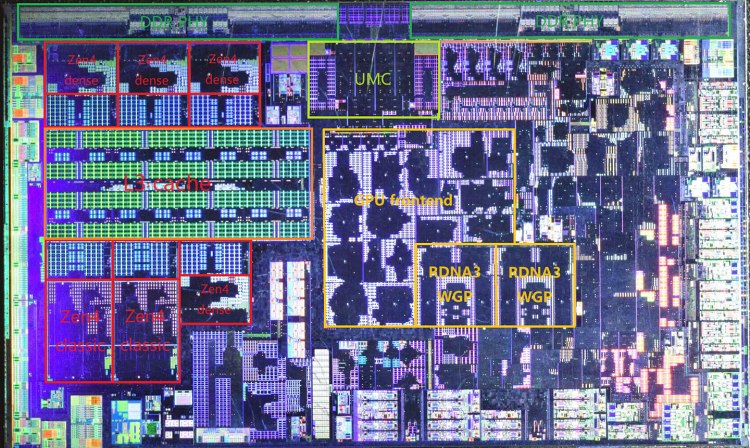 Ryzen Z1 Chip Found with Phoenix 2 Codename
Previously, it was assumed that the Ryzen Z1 Series processors found in handheld devices like the Asus ROG Ally and Lenovo Legion Go were similar to the Ryzen 7 7840U used in laptops.
During the review period of the ROG Ally handheld, Asus clarified the architecture of the Ryzen Z1 chip, confirming that it is optimized for handheld devices. This new revelation confirms the usage of Zen 4C cores in the Z1 chips. Tomshardware also sought clarification from AMD, and the response received confirmed the chip's purpose-built nature for handheld devices.
While the Ryzen Z1 Series (Z1 & Z1 Extreme) processors share similarities with the 7840U, they are codenamed as Phoenix 2, as revealed by David's analysis in the HWInfo application. The screenshot provided below further confirms this fact: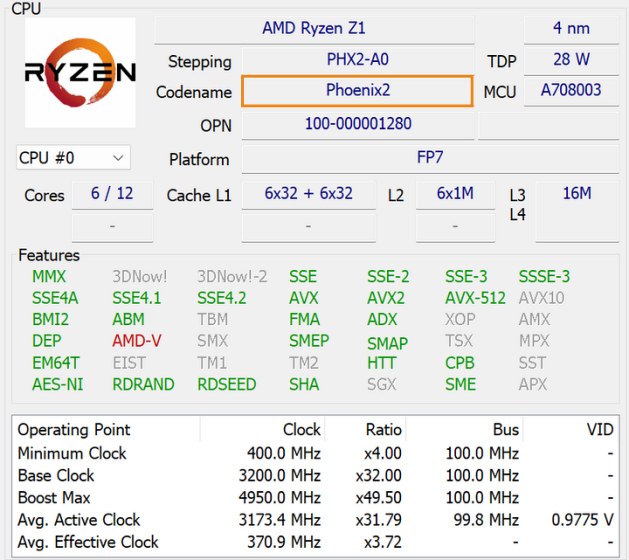 It's worth noting that the Z1 chips do not support the AMD Ryzen AI engine. Moreover, David Huang's deep dive into Phoenix 2 includes various benchmark tests. You can refer to our ROG Ally review to see the performance of the Phoenix 2-based Ryzen Z1 Extreme, compared against desktop CPUs and leading laptop CPUs like the i9-12900H.