AMD FSR 3.0: The Future of Gaming Graphics
A new era is about to dawn upon the gaming industry with the highly anticipated release of AMD FSR 3.0. This revolutionary update is set to rival Nvidia's Deep Learning Super Sampling (DLSS) technology, raising the bar for graphics quality and performance. With AI-powered frame generation technology, FSR 3.0 promises to deliver seamless gaming experiences like never before. Let's dive into the latest details and exciting rumors surrounding this groundbreaking update.
AMD FSR 3.0 Launch Imminent as Release Date Leaks
Renowned hardware leaker, Moore's Law Is Dead, has revealed through a confidential source that FSR 3 is almost ready for release. This exciting news suggests that AMD is on the verge of unveiling its latest update to FSR. According to leaked information, we can expect the release of FSR 3 as early as next month (September 2023). AMD has supposedly notified its OEM partners to expect FSR 3 briefings in the coming week. However, if the release doesn't happen in September, sources indicate that FSR 3 will be ready by Q4 2023.
One of the key advantages of FSR over DLSS is its open-source nature, making it compatible with a wider range of graphics cards, including older ones. To learn more about AMD FSR technology and how to use it on various graphics cards, check out our comprehensive guide. While the extent of FSR 3's support for older GPUs remains uncertain, it is expected to significantly enhance the performance of AMD's existing RX 7000 Series GPU lineup.
Will AMD's FSR 3.0 Match Up to Nvidia's DLSS 3?
The leaked information also mentions that AMD aims to have FSR 3 ready for Navi 32 reviews. This indicates that AMD anticipates positive feedback from hardware media outlets regarding its new RDNA 3 GPUs. However, the success of FSR 3.0 ultimately depends on its performance and visual quality. DLSS 3 has set a high standard, with Nvidia continuously improving its visual enhancements since its initial release. AMD hopes to meet or even surpass this standard with FSR 3, creating healthy competition in the market.
The introduction of FSR 3 finally provides AMD with an answer to Nvidia's DLSS 3. Frame generation technology has become a significant feature in Nvidia's RTX 40 Series GPU lineup. While high-end GPUs don't heavily rely on DLSS 3, mid-range offerings such as the RTX 4060 Ti greatly benefit from the technology. Similarly, AMD's mid-range RX 7600 lacked AI-generated frames until now. FSR 3 aims to bridge this gap and revolutionize the gaming experience for mid-range GPU users.
As FSR 3 hits the market, its potential to compete with DLSS 3 will become clearer. The community eagerly awaits further details on FSR 3's hardware compatibility, hoping that it will extend support to older GPUs. To get a sneak peek of AMD's plans for the FidelityFX 3 update, you can check out their presentation from GDC 2023.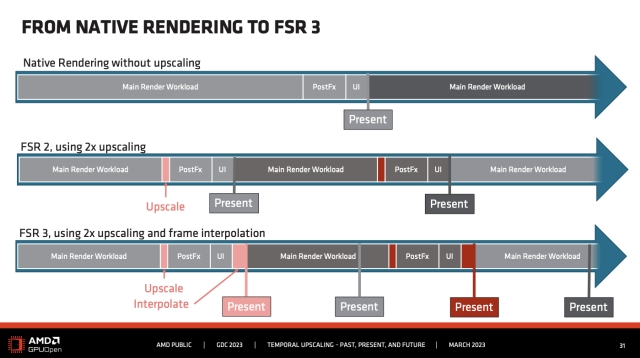 For those looking to purchase the best graphics cards in 2023, be sure to check out our buyer's guide. We'd love to hear your thoughts about AMD's upcoming FSR 3.0 update. Are you excited to see if it will be supported on your GPU? Share your opinions in the comments below!