Alienware AW2524HF: The World's Fastest IPS Gaming Monitor
The gaming industry is constantly evolving, with advancements in technology pushing the boundaries of what's possible. Dell, a leading player in the gaming space, has recently announced the new Alienware AW2524HF gaming monitor at Gamescom 2023. This monitor is creating a buzz for being the world's fastest IPS display panel. In this article, we'll delve into the specs and features of the Alienware AW2524HF and explore what makes it a game-changer for avid gamers.
Alienware AW2524HF: Specs and Features
The Alienware AW2524HF boasts a 24.5-inch IPS panel with an impressive 500Hz refresh rate. This refresh rate sets a new standard in the gaming industry, offering smooth gameplay and ultra-responsive visuals. It's important to note that the AW2524HF is not an entirely new model but shares similar specifications to its predecessor, the AW2524H.
One key difference between the AW2524HF and its predecessor is the supported syncing technology. The more expensive variant supports Nvidia G-Sync, while the AW2524HF is equipped with AMD Freesync Premium. The choice between the two largely depends on the user's preference and their gaming rig setup. Additionally, the higher-priced variant features RGB backlighting, giving gamers an enhanced aesthetic experience.
The 500Hz refresh rate of the Alienware AW2524HF sets it apart from its competitors. To fully unlock the potential of this monitor, a powerful graphics card and processor are necessary. High-performance games like Valorant will truly benefit from the 500Hz refresh rate, providing a smoother and more immersive gaming experience.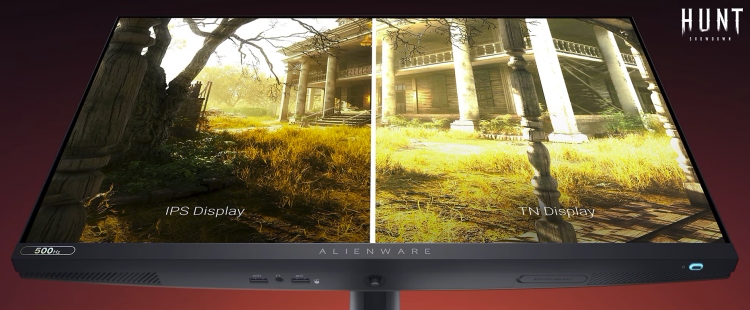 For e-sports enthusiasts, the Alienware AW2524HF is a must-have. Its IPS panel boasts a remarkable response time of 0.5ms and offers a wide color coverage of 99% sRGB. The monitor also supports HDR10 and incorporates TUV-certified, hardware-based blue light reduction technology. The design of the monitor is equally impressive, with its base specifically designed to occupy minimal space and provide gamers with more room for their keyboard and mouse during intense gameplay.
To further enhance the gaming experience, the Alienware AW2524HF features a convenient headphone hanger on the side of the monitor, allowing for easy and clutter-free setup management. In terms of connectivity, the monitor offers 2x DisplayPort 1.4 ports, 1x HDMI 2.1 port, and 5x USB 3.2 Gen 1 ports, ensuring seamless connectivity with various devices. The monitor's ergonomic design allows for a 178-degree adjustment, catering to both horizontal and vertical viewing angles.
Price and Availability
The Alienware AW2524HF gaming monitor is priced at $649.99 (~ Rs 53,600) and is set to launch on September 12th. It's an investment worth considering for gamers who are seeking top-tier performance and the ultimate gaming experience. Are you enticed by the 500Hz refresh rate of the Alienware AW2524HF? Share your thoughts in the comments below.